Grains of paradise lawsuit claims the gin ingredient is unsafe.
---
There is a little-known law in Florida that makes it a felony to sell alcohol "containing the spice grains of paradise"  because the ingredient is supposedly unsafe to consume.  Most people are not aware of this limitation, which was established a century a half ago.  Well, they weren't aware of it – until now.
A class action lawsuit has been filed against the maker of Bombay Sapphire gin because it contains the prohibited ingredient.  Sapphire gin's parent company is the well-known Bacardi USA, which the suit contends made an "adulterated gin" in violation of the state's law.  Winn-Dixie Supermarkets is also named, because it carries the liquor.
Miami attorney Roniel Rodriguez originally filed the lawsuit on behalf of businessman Uri Marrache, but it was removed from state to federal court in mid-September.
"People are consuming it unaware of its potential side effects," said Rodriguez.  He added that, controversially, "grains of paradise have been used in other parts of the world for medicinal purposes, including to treat impotence and stimulate miscarriages." Yet, the attorney admitted "he hasn't been able to find any studies showing a negative impact from grains of paradise."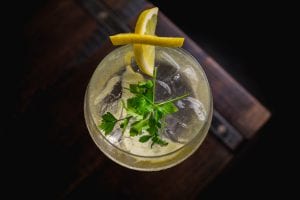 When the law was passed many moons ago, grains of paradise was being used by England's home distillers to produce watered down liquor so they could make more money, and since it was not being well-regulated, the ingredients used were oftentimes unsafe and could even be poisonous.  This made such a ban a warranted one at the time.
The ban in Florida specifically began in the Civil War area, when the Union blockade led to a shortage of liquor and sellers again watered-down spirits with harmful substances including sulfuric acid and lead acetate, as well as grains of paradise, to make their inventory last longer.  Because unsafe products were being created, Florida followed England's lead and banned the ingredient, along with others.  Along with the law came a stated three-year prison sentence if one was caught using the grains.
"Today, about 10% of gins use grains of paradise in the distillation process," Oliver Ward, a British gin expert, said, adding that the grains "give gin a certain botanical heat."
"Bombay Sapphire made a massive impact and played a major role in leading the entire gin market into a new era," said global brand director, Valerie Brass of Bacardi.  And, the company said it lists the ingredient right on the label, insisting the gin complies with "all relevant environment, health and safety laws and regulations."
In fact, grains of paradise are also listed as an ingredient in health supplements such as Metaburn, which is manufactured by Arizona's Plexus Worldwide.  The company said the grains promote weight loss and speed up one's metabolism.
Michael Hartman, Plexis' director of research and development, said he believes grains of paradise is completely safe, although the company is currently doing clinical research to determine its positive effects. "It's something that is part of the food supply in parts of the world," Hartman said.
The plaintiff had originally sought refunds from Bacardi, as well as payment of legal fees and "further relief as the court may deem proper and just."  His lawsuit was filed "on behalf of all persons in the state of Florida who have purchased Bombay Sapphire Gin."
Sources:
Lawyer sues gin-maker based on obscure 150-year-old law
Using a 150-year-old law, Miami lawyer sues over a once notorious spice in a popular gin
Bombay Sapphire embroiled in grains of paradise lawsuit