The dangers of sleep deprivation can be prevented with a good night's rest. However, steps have to be taken to ensure that adequate rest is part of a daily pattern.
---
Work-related injury, car accidents, domestic disputes—there are a number of ways an injury case can begin. A surprising number of them have a common factor—sleep deprivation. 
Lack of sleep changes how the brain and body function. Certain occupations and age groups are at higher risk for sleep-related injuries and accidents. However, the effects of sleep deprivation are, in many cases, preventable through adequate rest.
The body's sleep cycle is controlled in large part by the circadian rhythms, biological and physiological processes that repeat within a 24-hour cycle. Sunlight acts as a stabilizing force for these rhythms because blue spectrum light suppresses sleep hormones.
Any occupation that puts the body at odds with the circadian rhythm's use of the light/dark pattern of the Sun is at higher risk for injury or accident. Truck drivers, physicians and other medical personnel, night and swing shift workers, for example, are more likely to be on the road late at night or early in the morning when most drowsy driving accidents take place.
Occupational hazards aren't the only high-risk factor. Teenagers are at greater risk due to their undeveloped brain and the nature of their sleep cycle. Teens often overestimate their ability to drive while tired. At the same time, they're able to delay sleep longer than an adult. However, once they've reached their exhaustion threshold, their bodies fall asleep faster. They may not even realize how tired they are until they've already dozed off behind the wheel.
Without sleep, response times and decision-making skills slow down and are reduced. Lack of sleep also slows the body's ability to heal from muscle strain and injury. Poor sleep could lead to an otherwise healthy worker going to work without realizing their physical abilities are compromised. Those same issues can lead to on-the-job injuries just as easily as they can car accidents.
There are some common indicators that sleep deprivation contributes to an accident or injury. For car accidents, it may be that:
The driver didn't try to avoid the accident
High speeds were involved
Only one vehicle was involved
The driver was alone
It occurred late at night, in the early morning, or late afternoon
With an injury, it could be that the person got injured doing a task they've successfully done many times before, or that loss of strength or skills came after a longer than normal shift.
Sleep deprivation is mostly preventable. The majority of the time getting seven to nine hours of sleep keeps the mind and body sharp for a full day. However, poor sleep-related habits or an unsupportive sleep environment can make it difficult to get needed rest.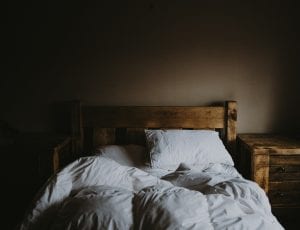 Small changes can make big differences in safety.
Healthy Sleep Environment: A mattress that supports the sleeper's weight and preferred sleep position prevent wakefulness and morning aches and pains. In addition, any outside light, warm room temperatures, and sudden noises can interfere with the timing of the sleep cycle.
Consistent Bedtime: The body sleeps better when it's on a regular schedule. Going to bed at the same time every day strengthens the circadian rhythms and the body's response to them.
Consistent Meal Timing: Eating meals at the same time and at regular intervals helps the brain recognize your sleep/wake pattern.
The dangers of sleep deprivation can be prevented with a good night's rest. However, steps have to be taken to ensure that adequate rest is part of a daily pattern. Doing so can reduce accidents and injury while improving overall health.