TikTok is the top trending video sharing application in the social media world. Its popularity is increasing day by day, especially with the younger generation. TikTok allows users to post short videos with music, effects, and other features. 
Additionally, for businesses, TikTok provides a platform to express themselves in a creative way and to promote their brand to a wider audience. 
TikTok is an entertaining platform that makes the app stand out among the competition. On TikTok, anyone can become a content creator because of the simplicity of the app. 
Instagram needed six years to reach the same monthly active user that TikTok has. But TikTok has reached 689 million users in just three years. This shows how the platform has grown. 
This article lets us see the top 12 TikTok statistics for 2021, which helps brands and marketers know around the TikTok world. Before that, you need to know what exactly TikTok is. 
An Introduction to TikTok 
TikTok is an entertaining platform with endless opportunities for creators and brands to show their talents to a massive audience. Unlike YouTube, TikTok allows you to share 60 second short videos to attract new followers to your profile. 
TikTok is famous for lip syncing videos and dance videos. Additionally, there are many new features on TikTok that boost your popularity on the platform. 
These are the effective TikTok features:
Video editing tools
VR-type filters
Live streaming feature
QR code scanner 
Green screen features
Message and notification 
Social share feature
Reaction feature 
Above 13 years is the age limit for joining TikTok. In addition, you can change your TikTok account to public or private as per your wish. Share creative content to increase the engagement of your audience. 
The following actions will increase your video engagement rate:
Likes
Views
Shares
Comments 
Share high quality videos on TikTok to achieve the above terms. 
Now let's look at the statistics to grow your business on TikTok. 
#1. TikTok Monthly Active Users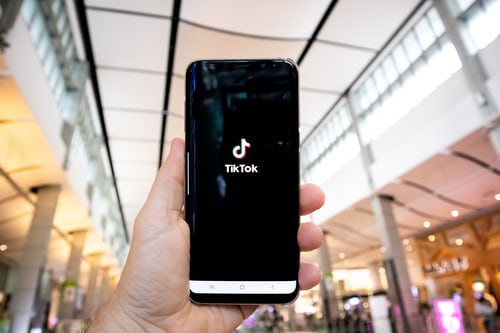 TikTok launched in September 2016 and has exploded in popularity over the past five years. According to the latest research of DataReportal 2021, TikTok has 689 active monthly users worldwide. It makes TikTok the seventh-largest social media application among other networks. 
TikTok has gained a potential reach within a short period among Instagram and Facebook. Additionally, the TikTok user stats of 689 million does not include the china app users. In China, the TikTok version is called Douyin, and it has 600 million daily active users. 
It means the total number of TikTok and Douyin monthly users is 1.29 billion across the globe. 
#2. Total Number of TikTok Downloads
Since the app was launched in 2016, it reached the first million downloads in February 2019. And TikTok took just eight months to get half of the million. TikTok growth keeps on increasing, and there is no sign of users' count decreasing. 
The recent TikTok statistics show that as of July 2021, the famous app has been downloaded more than two billion times from both Google Play and the Apple app store worldwide. In the first quarter of 2020, TikTok has reached 315 million downloads. 
The above stats will prove the importance of TikTok, so pay close attention to implement your marketing plan on TikTok. It will definitely increase your business and helps you to reach your target audience. 
#3. User Spend Time on TikTok 
According to the research of BusinessofApps, users spend an average of 52 minutes every day on TikTok. Every user spends nearly one hour on the app to create informative videos or watch engaging videos of other TikTokers. 
Compared with other social media sites, people spend the same amount of time on Instagram (53 minutes) and a little less on Snapchat(49.5 minutes), and users spend an average of 56 minutes on Facebook. 
Since the user engagement rate is higher on TikTok, businesses can easily promote their brands to a massive audience. The more time people spend on TikTok, the more they will see your products and advertisements. 
#4. In how Many Countries is TikTok Available? 
As per the research of Apptrace 2021, TikTok is currently available in 200 countries with 75 languages. In the beginning, TikTok was only available in 155 countries, but in 2020, the app reached 200 countries. 
Are you thinking about how TikTok has reached a huge audience in a short period? It is because of the engaged users all over the world. If you are an international marketer, TikTok is the best place to increase growth of TikTok followers by expanding your business with a global audience. 
As a marketer, create quality content about your brand to reach an international audience. With TikTok, you can possibly reach an audience in 200 countries to enhance your business reach and awareness. 
#5. Number of Video Views on TikTok 
Influencer Marketing Hub research says the average video watched on TikTok is one million videos viewed every day in a year. It is mind blowing stats that TikTok has reached one million views per day. 
Since people like to watch visually appealing content, TikTok gained more popularity among global audiences. TikTok is the first platform that achieved a high number of views in a short period. 
As a brand, share engaging content to gain views for your TikTok videos. Additionally, this platform provides excellent opportunities for marketers to promote their business and succeed through the platform. 
#6. TikTok Users Between Ages 15-29 
Younger generations are the main reason for the TikTok growth. Additionally, 69% of TikTok users are between the ages of 15 to 29. Do you know? This percentage is more than half of the US population. 
The popularity of TikTok among teenagers has increased because they can share their creativity and thoughts with a variety of global audiences. 
TikTok is the best marketing tool for businesses to increase their brand exposure and reach their target audience to get more sales and conversions. If you're targeting youngsters for your business without any doubts, start investing in TikTok to get better success. 
#7. Children ages 4-15 spending Time on TikTok
If you are marketing products for the younger generation, it is time to speed up your marketing campaign. Because even kids love TikTok. Additionally, children between the age of 4 to 15 spend an average of 80 minutes per day on TikTok. 
So you can easily share engaging content that attracts a younger audience to your profile. Make sure to create content that kids love and boost them to buy your products or services. 
#8. US Influencers See Higher Engagement Rate on TikTok 
If you are a brand and looking to grow an engaged community, TikTok is the perfect place to achieve it. Various TikTok studies show that the engagement rate of a micro-influencer is nearly 18%. 
Whereas Instagram has 3.86% and YouTube has 1.63% engagement rates. The above stats is enough to prove TikTok is the best place to start a micro-influencer strategy. Also, the report says influencers at large scale getting higher engagement rate on TikTok. 
So if you want a huge following on TikTok, partner with the right influencer to increase your TikTok marketing strategy. 
#9. How Many TikTokers Create Their Own Content?
On TikTok, 55% of users are uploading their own content on the platform. These stats show that the majority of the TikTokers are sharing content with their own ideas to attract followers. 
Since TikTok is a huge platform, create visually compelling content to increase your brand awareness. The more you share unique content, the more new people will like to watch and engage your videos. 
#10. How Many TikTok Users Watch Other Videos?
On any social media platform, most people like to watch others' videos, and some like to create their own content. In TikTok, more than 68% of users like to watch others' videos on the platform. 
Nearly more than half of the people on TikTok love to watch engaging and entertaining videos. As a brand, share more exciting content with your audience to boost your TikTok video views. 
#11. TikTok Users Access the App Every Day
Another tribute to TikTok is that highly engaged communities are using the app per day. There are 90% of TikTok users accessing the app daily to create compelling content or watch entertaining videos. 
This means 9 in 10 users login to the app several times every day. For business, it is essential to see an engaged and active audience before marketing on the platform. Use the right TikTok strategy to get great results for your business. 
 #12. Most TikTok Users are Female
Before marketing on TikTok, brands need to know their target audience and then create content that fits them. Businesses that focus on women audiences are lucky. Because the TikTok report says, most app users are females. 
TikTok has 58.8% female users, so use these opportunities to expand your brand reach with a women audience. It doesn't mean that TikTok is a platform to target a female audience. If your target audience is men, you can also use this platform to improve your business. 
Tips For Brand To Start Over With TikTok Marketing
Set an objective and crate content to achieve your business goal
Share unique high quality content to increase video engagement rate
Post hashtag challenges to increase your brand awareness 
Use TikTok live streams to build a strong relationship among your audience 
Share video at the peak time to boost engagement 
Reply to the comments to increase user interactions
Partner with the right influencer for promoting your brand or services
Encourage user-generated content to increase your brand popularity 
Brands need to remember the above thoughts to get better results for their business. 
Final Thoughts
TikTok is an effective marketing platform for businesses to reach the younger generation. Create great content to increase your brand awareness, reach and gain a massive audience to your TikTok profile. After knowing these stats, you will understand how the newest social media platform works. I hope these twelve amazing statistics boost your business growth with a large TikTok community.