Today's simple accident strategies may provide the optimal solution to help.
---
Have you ever wondered about the different options for protecting yourself from the law after a car accident? There's no doubt that being involved in a crash or collision can be stressful enough at the best of times. 
However, when then faced with the possibility of a lawsuit, things become ten times more problematic. But this doesn't necessarily mean you can't take some steps to protect yourself and ensure your case goes as smoothly as possible.
4 Vital Tips to Help Protect Yourself
So, a car crash has taken place. It's a scenario most of us dread. However, there are steps that can help prevent things from spiraling into a disastrous court case.
#1 Don't Leave
One of the most common mistakes people make that leaves them open to misinterpretation and doubt is leaving the scene. In fact, after being involved in an accident, this is the worst thing you can do.
Staying where the issue happened is a simple way to boost your claim. This allows the police to get a better understanding of the issue(s) when they arrive.
#2 Take Care with Insurance
After a vehicle accident, there's a good chance that you will be spammed with insurance claim offers. Some of these may be genuine and sent by the other driver's insurance company. However, more often than not, these will also include scams looking to obtain your personal information.
Always keep due diligence and care in mind when taking with insurance providers. Don't be afraid to ask for proof, and never make any decisions without getting expert guidance first on whether or not the offer is fair.
#3 Photograph and Document the Scene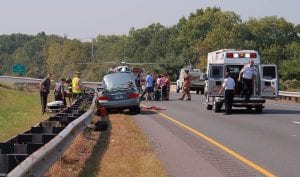 Evidence is everything in court cases. However, when fighting for a balance of probability, having copies of evidence can be hugely helpful. 
Take photos of the car and damage done, and so on. Doing so helps ensure that the issues incurred during the accident are accounted for. Ideally, try to also get photo evidence at regular intervals before any issues arise, too; this will help strengthen the case.
#4 Partner with a Car Accident Lawyer
As a final tip, partnering with a professional is a hugely integral aspect of preparing a case. Indeed, a car accident lawyer is often able to help support an individual's case while simultaneously helping boost the take-home claim. As a result, if the case needs expert, professional support, choosing a car accident attorney may be an essential step to take.
Final Thoughts
Been involved in a vehicle crash? Today's simple accident strategies may provide the optimal solution to help. Indeed, while many people panic in the stress of the moment, there are several possible options that could strengthen a case and protect it from the law.
Indeed, while you should never attempt to subvert the law, making sure you have everything you need to protect the case is crucial. Fortunately, this doesn't have to be hard, and a few small steps can set things up for the best possible chance.