Older adults with mental health disorders can lead to reduced functioning, substance abuse, and poor quality of life.
---
Sometimes, graying is not as graceful as you might have expected. Old age can kick in with its share of challenges, making it difficult to remain mentally healthy and strong. According to a study, most people cannot access effective care for their mental disorders. 
Fortunately, taking your older adult to a primary care physician will ensure it's not too late. Incorporating the simple ways below will help to improve the elderly's mental health and well-being. This way, it deters the increasing statistics and boosts the quality of life among the senior population. Let's indulge!
Risk Factors for Elderly Mental Health Problems 
Risk factors for mental health problems can come at any point in life. However, the older groups may experience more common life stressors than other people. Prevalent life stressors in old age include continuous loss of capacities and a decline in the ability to function normally. For instance, older people may experience chronic pain, impaired mobility, and frailty, among other health problems.
Additionally, older people tend to experience sorrow or a drop in socioeconomic status after retiring. Such stressors can lead to isolation, loneliness or psychological suffering in seniors, requiring a long-term primary care physician.  
Moreover, many older people experience elder abuse like physical, verbal, sexual, psychological, financial and neglect. Elderly abuse leads to physical injuries and severe, long-lasting depression and anxiety.
Generally, it's crucial to have your older adults get the best and most reliable senior care for long-term care. Here's why.
A primary care physician is experienced in offering effective senior care in the hospital. So, the senior receives all-inclusive preventive care, modified wellness plans, combined health services, and educational and social activities for support.
Therefore, it would be best to search for primary care doctors near me to get an exclusive focus on the needs of older adults. Better still, you get centers that pay more attention to quality than the number of services. Senior care is also available for anyone within reach, regardless of background or income.
6 Senior Care Ways to Support Elderly Mental Health
It's crucial to meet the mental health specifics of older adults. There are several things to better support the elderly with their mental health, including;
1.   Encourage Socialization
More than one-third of adults over 45 years old feel lonely. After retiring or when their children move away, most seniors experience high levels of isolation and loneliness. This can result in poor mental health in the elderly.
It would be best to visit your aged parents often to check on them and ease their loneliness. Better still, you could book your seniors a ticket or take them to visit close family and friends.
Encouraging older adults to join social activities like a book club or a knitting group would help to keep them occupied with friends. Even though they've retired, your elderly parents could also volunteer in similar and less-tasking jobs to avoid being alone.
2.   Promote Physical Activity
Regular physical activity helps to improve mental health significantly. A recent study states that running or simply walking for a short while can reduce the risk of depression. Hence, it would help if the older adult did appropriate physical activities such as walking, hiking, or swimming.
Exercise improves mood by boosting endorphin levels and the feel-good chemicals in the brain. This reduces stress hormones, proving to be an effective solution for managing depression and anxiety!
Want to get more social? Part of senior care includes encouraging them to join group exercises as a fun way to achieve the target timeline daily. Plus, group exercise gives you the psych of attending all sessions. A senior will always look forward to yoga lessons with friends.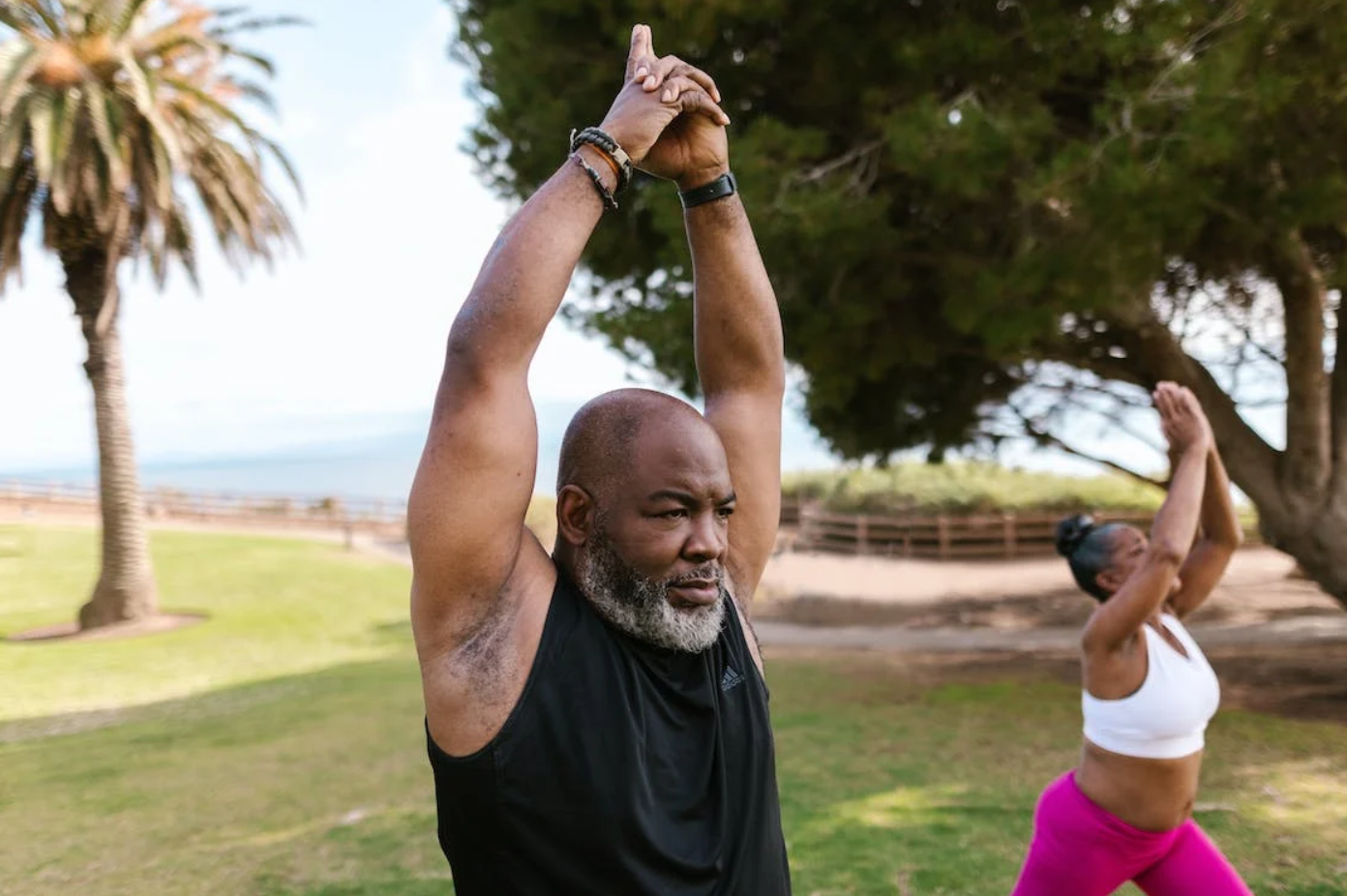 3.   Support Cognitive Stimulation
Keeping the brain busy can help boost the elderly's' mental health. This will reduce the risk of dementia by:
Perfecting memory
Accelerating information processing
Boost thinking and cognition.
Older adults should partake in mind-stimulating activities for at least 30 minutes daily. Such mind activities include:
Reading a book
Engaging in puzzle and board games
Learning a musical instrument
Doing craftwork and more.
The best part is that these games require playing with others which encourages socialization. So, if you don't live with an older person, you can encourage them to sign up for clubs with such senior activities. Better still, searching for 'primary care offices near me' will help you find elderly groups to engage in cognitive activities.
4.   Provide Emotional Support
Listen! The best way to understand the emotional state of an older person is by listening. Over 2 million older adults claim not to receive any emotional support. It would help if you encouraged them to express their feelings to you in whatever circumstance. This is an excellent way to learn how to approach them for emotional support.
Also, seniors can advocate for themselves if they are not in a severe mental decline. Usually, people treat older adults as children who can't make their own decisions.
However, seniors are adults that need to be in control of their lives. Consequently, it would be best to actively listen to them. Also, respect their wants and needs and do your best to meet them.
5.   Encourage Professional Help
An older adult experiencing persistent or severe mental health issues requires quality senior care. This way, the patient will receive professional help from a mental health expert, like a therapist or counselor.
Professional help on mental health issues will provide expert insights into where it began. Once the therapist learns the source of the issue, it'll be easy to diagnose and treat it. Usually, severe loneliness, abuse, stress and other problems can lead to concerning mental issues in a senior.
Also, the psychologist will direct the older adult and the caregiver on proper treatments. Seniors will likely be under the observation of a skilled and reliable primary care physician to monitor their progress.
6.   Promote Healthy Habits
Part of effective senior care is to encourage older people to adopt healthier habits. An older person should get enough sleep, eat a balanced diet, and manage stress.
The elderly are vulnerable to illnesses. But a balanced diet goes a long way to ensure the body stays strong to fight any sickness. Part of a healthy diet should include drinking lots of water daily.
Sleep also plays a significant role in mental health. People who have trouble sleeping are likely to trigger depression, anxiety and even suicidal thoughts. But, when you sleep enough, a maximum of 7-9 hours daily will help boost alertness and cognitive abilities.
Frequently Asked Questions (FAQs)
Why Is Mental Health Important For the Elderly?
Mental health contributes significantly to overall well-being. Older adults with mental health disorders can lead to reduced functioning, substance abuse, and poor quality of life.
How Do You Offer Practical Support To Older Adults?
Assist the older adult with seemingly complex tasks like running errands, handling finances, or organizing medications. This helps to reduce stress and boost their overall well-being.
How Can You Help Your Lonely Elderly Parent?
You can schedule a routine to visit your senior parents often. Also, teach your elderly parents technology so that you can video call regularly when you're apart. You can hire caregivers to stay with them or check on them regularly.
Wrapping Up
As people age, they experience lots of changes in their physical and mental health, which can affect their overall well-being. Common changes include an increased risk of depression, anxiety, dementia and cognitive decline. 
Therefore, the above ways will help you to support the mental health of the elderly, and help them maintain their quality of life and independence. Better still, it can also help to reduce the risk of developing new conditions.
However, if the older adult still struggles despite these efforts, placing them under senior care would be best. Search for primary care doctors near me and get the older adult started on the journey to good mental health.