A federal judge has scheduled an April trial, giving the three inmates a chance to finally tell their story before an American jury.
---
After nearly a decade of delays and indecision, a federal judge is allowing three former Abu Ghraib inmates to move forward with a lawsuit against the prison's civilian contractor.
According to CN, the U.S. military detained about 50,000 Iraqi men and women at the prison following the 2003 invasion of Iraq. Run by soldiers and military contractor CACI Premier Technology, the facility developed a notorious reputation for torture and abuse.
Between 2003 and 2004, the Associated Press, 60 Minutes and New Yorker all ran stories detailing outrages at Abu Ghraib. Media agencies acquired and released photographs showing U.S. military personnel humiliating and terrorizing Iraqi inmates. Along with being forced to strip naked, detainees were sodomized, beaten, and chained in stress positions. Pictures showed men piled in nude pyramids, leashed by their necks and threatened by snarling dogs.
While many of Abu Ghraib's abuses were perpetrated by servicemen and women, CACI Premier Technology provided interrogation support and linguistic services to the troops.
The three plaintiffs claim they were tortured by military police officers, who were directed by civilian interrogation overseers to "soften up" inmates before interviewing them.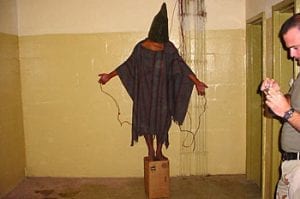 CACI says none of its interrogators encouraged or were otherwise involved in torture at Abu Ghraib. And on Wednesday, the company asked U.S. District Judge Leonie Brinkema to dismiss the lawsuit, saying the government's refusal to declassify key facts complicates its defense.
Brinkema, reports the Associated Press, acknowledged CACI's frustration but said the lawsuit can move forward regardless. It's expected to move to trial in April.
Speaking to CACI and the plaintiffs, Brinkema said, "you should expect if you don't settle this case, it'll go to trial."
"There is evidence in the record that this mistreatment has caused severe and lasting physical and mental damage to all three plaintiffs," Brinkema wrote in his 54-page ruling. "Each has been diagnosed with post-traumatic stress disorder and major depressive disorder, and each has submitted an expert report detailing how these mental illnesses have caused significant problems in plaintiffs' personal and professional lives up through today."
The Associated Press reports that Center for Constitutional Rights legal director Babher Azmy celebrated the ruling and Brinkema's decision to schedule an April trial.
"After the smoke from more than a decade of litigation fights has settled, we now see and important moment in the quest for justice and accountability for victims of torture and abuse at Abu Ghraib," Azmy said in a statement.
"Our clients have waited patiently for the lawyers to do their work," Azmy added. "Now, they finally have a chance to tell their story directly to an American jury."
Sources
Contractor Can Be Sued Over Abu Ghraib Torture
Federal judge allows Abu Ghraib prisoners' lawsuit to move forward