Hispanic man has acide thrown on his face in alleged hate crime.
---
61-year-old Clifton A. Blackwell of Milwaukee, Wisconsin, is facing hate crime charges after dousing a Hispanic man with acid outside of a restaurant.  Blackwell faces a count of first-degree reckless injury as a hate crime, according to the complaint against him.  First-degree reckless injury carries a maximum penalty of 15 years in prison plus ten years of extended supervision.  Because the act is also being considered a hate crime, there will be added punishment in accordance with state law, which could mean an addition five years in prison.
The victim, Mahud Villalaz, 42, suffered second-degree burns to his face.  He reported to police that Blackwell walked up to him and splashed acid on him, asking, "Why did you invade my country?"  Villalaz is a citizen of the United States who immigrated from Peru, yet Blackwell referred to him as "an illegal" and told him to "go back."  The victim also admitted he responded to Blackwell, calling him a "racist," before acid was thrown on him from a metal bottle.
Before ultimately filing the hate crime charges against Cliffton, Milwaukee District Attorney John Chisholm said his office was "looking to determine whether the attack was motivated in whole or in part based on the victim's race."  He said at the time prosecutors would look "very closely first at the underlying offenses and then we'll make a determination whether the facts support the hate crime" and added, "But it's obviously a concern to many people not just in this community but really around the country right now."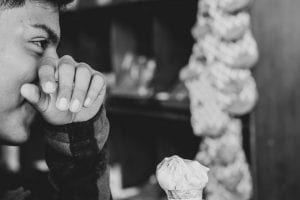 During the investigation, officers were able to confiscate muriatic acid, four bottles of Kleen-Out sulfuric acid and two bottles of lye from Blackwell's residence.
"It's been nice to know that there are many people here that worry about other people.  Not only Latinos…(people) of all colors.  We must unite," Villalaz said.  He said his face is in the process of healing and he just wants to move past what happened.
Staff at Taqueria La Sierrita, the restaurant near where Villalaz's encounter with Blackwell took place, are very shaken by what occurred.  Brenda Hernandez remembers the day well that Villalaz came running, his face covered in acid.  "He was crying," Hernandez recalled, and they tried everything to wash the chemical from his face.
"I come to work, and I'm afraid to leave, afraid that someone might do something," she added.
Villalaz's attorney Craig Mastantuono, said, "Nobody should be the subject of violence as the result of their national origin, race or color.  When violence is based on just hate of someone…then violence can come so random as to threaten us all."
Blackwell's mother, in California, reported her son served in the Marine Corps during the U.S. invasion of Panama back in 1989, and afterwards, she said he'd received treatment through the Veterans Administration for post-traumatic stress disorder.  She felt this could be the cause of the attack.  However, the Marine Corps Manpower and Reserve Affairs office in Virginia said it could find no record of Blackwell serving in the Marines.
Cliffton's bond was set at $20,000 and he must wear an electronic monitoring bracelet.
Sources:
Milwaukee man charged with hate crime in acid attack of Hispanic man
Prosecutors charge veteran with hate crime for acid attack on Hispanic man