Activists say the Trump administration is unfairly privileging wealthy immigrants.
---
Immigration activists are suing the White House over a recent dictate that people trying to enter the United States on certain visas either have health insurance or documents showing they afford to pay for medical treatment out-of-pocket.
The Hill reports that the suit was filed by The American Immigration Lawyers Association, the Justice Action Center, Innovation Law Lab, and Sidley Austin, LLP. The complaint, lodged in an Oregon federal court, claims that the policy could block two-thirds of potential legal immigrants from entering the country.
"Suspending the entry of potentially two-thirds of all legal immigrants to the United States, the Proclamation represents an unprecedented abuse of […] power," says the suit.
The complaint also references the so-called 'Public Charge Rule.' That rule, proposed by Trump officials, would've rendered migrants who use certain public benefits ineligible to attain either permanent residency or U.S. citizenship.
"The Proclamation, like the recent Public Charge Rule, attempts to radically rewrite Congressional decision about which immigrants may enter the country based on wealth considerations," it adds.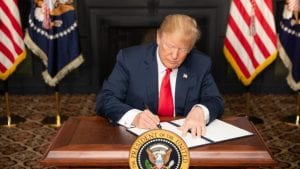 Jesse Bless, the federal litigation director for The American Immigration Lawyers Association, said the administration's latest proposal is a targeted attack on migrants from certain countries.
"It is terrifying for U.S. citizens to think that they may never be able to reunite in person with their loved ones because of this proclamation," Bless said in a statement. "The proclamation represents the latest attempt to separate families and undermine due process solely on the basis of cultural and national origin-based bias. It's as un-American as the public charge rule."
The Trump administration, however, claims to be advocating Americans' best interests. The proclamation, issued earlier this month, explicitly seeks to halt entry of people pursuing visas who may "financially burden the United States healthcare system."
Under the policy's purview, migrants could be considered "burdens" if they're not covered by an approved health insurance plan within 30 days of their arrival to the U.S. Exceptions would only be granted to those who have enough money to "pay for reasonably foreseeable medical costs."
"While our healthcare system grapples with the challenges caused by uncompensated care, the United States Government is making the problem worse by admitting thousands of aliens who have not demonstrated any ability to pay for their healthcare costs," the proclamation says.
Nevertheless, Oregon officials have praised the lawsuit and pledged to back it. The state's attorney general, Ellen Rosenblum, cited the proclamation as yet another instance of the Trump administration's overt xenophobia.
"The federal government's decision to deny visas to immigrants unless they have health insurance—or unless they are wealthy enough to pay for their health costs out of pocket—is yet another in a series of unending cruel and dehumanizing policies coming from this administration," Rosenblum wrote in a statement. "Our America is welcoming and inclusive. Selecting only wealthy immigrants is not! I look forward to joining Innovation Law Labs (and other legal groups) in the court fight against this latest wrong-headed federal rule."
Sources
Immigration advocates are suing Trump administration over health insurance requirement
Lawsuit challenges White House policy requiring migrant health insurance