The lawsuit claims that Virginia's return to the automatic disenfranchisement of most convicted felons violates a Reconstruction-era law.
---
The American Civil Liberties Union has filed another lawsuit representing convicted felons who have been automatically disenfranchised by a recently enacted Virginia law.
According to The Associated Press, Virginia is one of a very few states that automatically strips felons of their rights to vote.
Under most circumstances, a convicted felon can only regain their right to vote by submitting an application to the governor's office.
In their lawsuit, the American Civil Liberties Union claims that Virginia is violating a Reconstruction-era statute dictating the terms of the Old Dominion's re-admission into the national Congress following the end of the Civil War.
The Readmissions Act of 1870, writes The Associated Press, prohibited most former Confederate states from codifying any constitution or constitutional amendment that could disenfranchise citizens convicted of committing crimes that were considered common law felonies.
When the Readmissions Act was passed an enacted, common law felonies represented a discrete category of crimes, different from ordinary "statutory" felonies that included murder, manslaughter, and arson.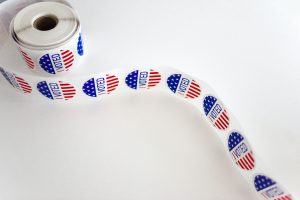 Virginia later amended its constitution to disenfranchise convicted residents for non-common law felonies.
Today, nearly 150 years later, the Old Dominion categorizes a wide variety of crimes as felony offenses, including drug possession and narcotics trafficking.
The administration of current Virginia Gov. Glenn Youngkin has said that it has deliberately begun moving way from a system of automatically restoring rights to felons.
The impact of Virginia's disenfranchisement laws, the A.C.L.U. claims, "has been exacerbated" by the governor's office's actions.
"While Virginia's prior three governors restored voting rights to disenfranchised citizens with felony convictions based on specific criteria, Governor Youngkin has ended his predecessors' restoration programs and resurrected an opaque and arbitrary rights restoration policy without any objective criteria or set timeframe for rendering restoration decisions," the lawsuit claims.
Macaulay Porter, a spokesperson for the governor's office, declined The Associated Press's request for comment on the pending claim.
The A.C.L.U. is asking a court to find that the Virginia Constitution's disenfranchisement provisions violate the Readmission Act.
It also seeks an injunction prohibiting the state and its constituent agencies from "denying the fundamental right to vote to Virginia citizens who have been convicted of crimes that were not common law felonies" when the Readmission Act was codified in 1870.
The Associated Press notes that the A.C.L.U. and another non-profit organization—Protect Democracy—filed the complaint on behalf of Bridging the Gap in Virginia, as well as three convicted felons.
Sources
Lawsuit challenges Virginia law that strips felons of voting rights
Lawsuit claims Virginia's felony disenfranchisement violates Reconstruction-era federal law