An Arizona husband and wife are suing Glendale's police department, claiming its officers tased the man 11 times for asking a question.
---
An Arizona couple are suing local police for a 2017 traffic stop gone wrong, accusing officers of excessive force bordering on torture.
According to the Associated Press, an attorney for Johnny Wheatcroft claims the man was tased multiple times after asking Glendale police why they needed his I.D.
Attorney Marc Victor says he has body camera footage of the encounter and plans to release it Monday. Stills and snippets from the clip have already been released by some local news agencies.
Wheatcroft, writes the AP, was a front-seat passenger in a vehicle driven by a family friend. His wife, Anya Chapman, was in the backseat; the couple's two children were sitting next to them.
The group was en route to a motel when they were pulled over by Glendale police on July 26, 2017.
After initiating the stop, officers discovered the driver didn't have a license. Wheatcroft, prompted to provide identification of his, asked why.
"Upon contact, officers discovered that the driver did not have a driver's license and began to address an observed seat belt violation," Glendale P.D. said.
Immediately afterward, officers turned their attention to Wheatcroft, asking who he was and whether he had any means to identify himself.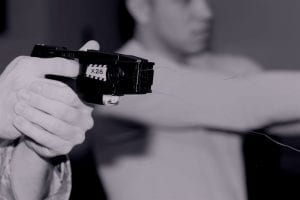 And Wheatcroft had every right to object, says his attorney, who claims that, at least in Arizona, it's not illegal for the passenger in a vehicle to refuse handing over their license in a routine stop.
Incident reports claim that Wheatcroft reached underneath the car seat for a backpack as he "continued to argue, yell and physically resist" officers' attempts to remove him from the vehicle.
The lawsuit claims the situation escalated when officers unholstered their stun guns and discharged them more than 11 times. Meanwhile, the lawsuit says he was "writhing in pain while his family watched and screamed for the officers to stop."
AZFamily.com notes that, in the video, Wheatcroft appears to be tangled in his seatbelt as the officers tried dragging him out of the vehicle.
"While officers attempted to detain Mr. Wheatcroft, Anya Chapman swung a bag filled with bottled drinks, striking Officer Lindsey in the head, rendering him unconscious," a Glendale Police report claims.
At about that time, the officers' behavior took a sinister turn. With Lindsey on the ground, his partner allegedly pulled down Wheatcroft's pants and aimed his stun gun at the man's testicles.
"Keep fighting and you're going to get it again! You want it again?" Officer Matt Schneider asked. "Shut your mouth! I'm done [expletive] with you!"
AZFamily.com says the police statement doesn't make any mention of Schneider's targeted tasing, emphasizing instead that Wheatcroft was only taken into custody after more officers arrived at the scene.
Initially booked for aggravated assault and resisting arrest, Wheatcroft and his wife were later released from police custody with the charges dropped.
One of the officers involved in the incident was suspended for three days following an internal review.
Wheatcroft's lawsuit claims officers used "unlawful, unreasonable and excessive force," violating his civil rights. He's seeking unspecified damages.
Sources
Man tased nearly a dozen times accuses Glendale officers of 'pure torture' during traffic stop
Police Used Stun Gun 11 Times, Arizona Couple's Lawsuit Says