Computer programmer and attorney are both charged in a cyberattack designed to take down sites' negative reviews.
---
Wichita, Kansas, accident attorney Brad Pistotnik, 63, pleaded guilty to being involved in a cyberattack on websites that they posted negative information and reviews about him.  Pistotnik specifically pleaded guilty to three misdemeanor counts of being an "accessory after the fact to an extortionate threat over the internet."  He will now pay $430,000 to include a $375,000 fine and restitution of $55,200.  Pistotnik was originally charged last year with "computer fraud, conspiracy and making false statements to the FBI."
According to court records, Pistotnik met with co-defendant software engineer and co-founder of VIRAL Artificial Intelligence, David Dorsett, 37, in September 2014.  Soon after their meeting, Dorsett began "flooding servers for three websites with emails demanding the takedown of negative information about Pistotnik."  The sites the two focused on were Leagle.com, RipoffReport.com and the law firm Jaburg Wilk.
The review that was targeted on RipoffReport.com was documented in court, and read, in part, of Pistotnik's services, "you are better off hiring his brother."  Email correspondence between Dorsett and Pistotnik revealed Postnik saying, "Any luck removing that bad website I showed you?" and "Tell me how we get rid of it."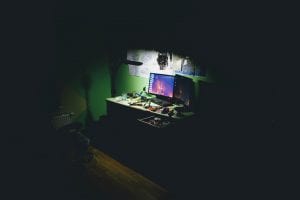 A threatening email made to the site read, "If you don't remove it we will begin targeting your advertisers and explain that this will stop happening to them once they pull their ads…"
The negative review was ultimately removed from RipoffReport, and Dorsett sent Pistotnik confirming his tactics had worked and describing how he'd executed his plan.  Four days later, Dorsett sent Pistotnik an invoice for his services, which Pistotnik immediately paid.
During legal proceedings, Pistotnik said he was remorseful for what the two had done, stating, "I feel bad about what's taken place.  I made a mistake.  I feel horrible about it and it won't happen again. I'm trying to take responsibility."  His attorney, Mark Schoenhofer, said he got mixed up with the wrong guy. "This was an unfortunate thing.  He got involved with a person that was a bad character," said k Schoenhofer, who added, "Brad has learned from this and Brad will move on."
Pistotnik and Schoenhofer also released the following statement: "The U.S. Government dismissed all ten felonies listed in the original indictment against lawyer Brad Pistotnik in exchange for pleas to three misdemeanor 'accessory after the fact' charges.  Mr. Pistotnik entered into a plea agreement whereby the government sought no prison time, no probation and Mr. Pistotnik would pay fines of $375,000.00 plus court costs and restitution.  The U.S. District Court accepted the plea deal.  Mr. Pistotnik has paid his fines and restitution, and he is now done with this chapter of his life.  He looks forward to continuing to assist Kansans who have been injured in serious accidents."
Dorsett pleaded guilty to "two counts of making extortionate threats via the internet" and, in his plea agreement, he admitted he had contacted Pistotnik offering reputation management services. His sentencing is set for January 6, 2020 and the programmer faces a penalty of up to two years in federal prison and a fine of up to $500,000.
Sources:
Lawyer pleads guilty in connection with cyberattacks on Leagle and RipoffReport
Man hired by Brad Pistotnik for 'reputation management services' admits making threats
Wichita attorney Brad Pistotnik pleads guilty in cyberattack case
Computer programmer enters plea in Brad Pistotnik cyberattack threat