Attorney accused of threatening ex during and after relationship.
---
34-year-old criminal defense attorney, Matthew Russell Meyer, was arrested after allegedly stalking and intimidating his former girlfriend, saying that he could "find criminals to enact violence on her family."  Meyer, is accused of telling the girlfriend in a text message, "Criminals owe me favors" and saying, "People who are exceptionally dangerous, and good at it, I've met plenty, keep in touch with plenty."
Meyer's clients aren't the only ones with shady history – he also has a sordid past.  He was accused of pushing a man walking with his girlfriend home from a bar in October 2017.  According to court records, Meyer and the victim had been dating off and on, and at one point, had apartments in the same complex.  Meyer is accused of following the woman and another man who was escorting her home from a bar, then attacking him.
He and his ex got into an argument in April 2018 and he is accused of punching her in the head.  The woman suffered a concussion, according to a criminal complaint.  Shortly afterwards, each sought temporary restraining orders against the other party but agreed to dismiss these in May 2018.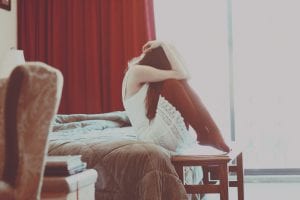 It didn't end there.  He also locked the woman in the bathroom of her own apartment, where she had fled to escape another argument and to call 911.  In June, he also followed her into an underground parking garage, yelled at her and sprayed her vehicle with Red Bull.
After the two split up in August, Meyer allegedly threatened to air the woman's "dirty laundry" if she didn't "have sex with him one more time, pay him money that he thought was owed, or provide information about the men she was seeing."  He sent her over 500 emails to her after their separation.
Earlier this month, according to prosecutors, the victim woke up to multiple messages from Meyer after he allegedly did damage to her vehicle yet again.  In the messages, Meyer wrote, "You're going to do irreparable harm to your car if you drive it or if it sits there."  This was followed by a message that said, "What's wrong with your car, you can't see.  I'd suggest you talk to me before driving it."
The victim's car had a flat tire and dents to the passenger side.  The police were called again and there was a marked squad outside her apartment building for some time.  At one point, messages came in from Meyer.  One of these read, "I don't have a key."
Meyer faces charges of substantial battery with intent to cause bodily harm, threatening to communicate derogatory information, felony victim intimidation, and stalking.  He also evidently told his ex he wouldn't be penalized because of his position in the court system, and she lived in utter fear of him.  The woman told police Meyer "continually said his position as a criminal defense lawyer would allow him to avoid liability for things he said he would do or have done to her."
Meyer graduated from Marquette Law School in 2012 and started his practice in 2014, now known as Meyer Van Severen S.C.
Sources:
Lawyer accused of stalking his girlfriend and telling her that criminals owe him favors
Milwaukee defense lawyer arrested at courthouse is charged with battery and stalking of ex-girlfriend