Random trails left behind by criminals lead law enforcement officers right to the perpetrators.
---
Noah Ball, 23, crashed his vehicle into a home and drove off.  The three residents that were inside at the time left following the crash.  Fortunately, they were unharmed, according to the police report, and provided a description of the vehicle – a black Jeep.  Armed with this information, police investigated the incident and, as it turns out, it took no time at all to track down Ball.  They just followed mile-long trails of fluids and car parts right to his residence, where they discovered the damaged Jeep in Ball's driveway.
Ball admitted to being intoxicated.  The report stated, "Noah then told me the accident was caused when a deer jumped in front of him, causing him to blow through a stop sign, across the road, through 20 feet of grass (and into the house)."
Authorities confiscated a rifle in the home.  The report continued, "Noah showed no remorse that he nearly killed three people inside the house he crashed into.  Noah's car nearly missed hitting all three of the people inside the house by mere feet and the gas meter by a smaller amount.  The only thing Noah cared about during booking was his rifle and was baffled it was taken.  He never once asked about the condition of the people in the house."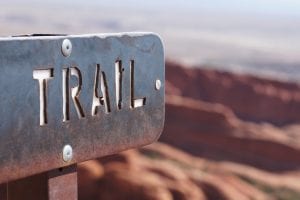 Police charged Ball with driving under the influence, leaving the scene of an accident, driving to endanger, and improper storage of a gun.  He was also cited failing to stop at a stop sign.
Following trails left behind by criminals, which lead to arrests, seems to be quite the trend.
Police apprehended three burglars after they also left a rather odd trail behind them as they made their getaway.  The three men, Matthew P. Sapetko, 34, James P. Marullo, 35, and Timothy S. Walker Jr., 23, may have committed the perfect crime – had they not been hungry for macaroni salad.  Authorities followed the salad trail, along with a host of other objects left behind from the crime.
"Found along the trail were cash register parts, surveillance system parts, rubber gloves, loose change and a steady trail of macaroni salad," the sheriff's office said. "It was later discovered that the suspects stole a large bowl of macaroni salad, which they took turns eating, along their escape route."
The trio have been charged with third-degree burglary, third-degree criminal mischief and fourth-degree grand larceny.  Walker also faces charges for criminal possession of a controlled substance.  Most of the stolen property has been recovered.
The story is similar to one that occurred in Iowa City a few years ago when Francisco Jacob Munoz, who had just robbed a store, left behind a trail of stolen snack foods which led police to his location.  According to the report, Munoz was blackout drunk and covered in nacho cheese when he was apprehended.
In addition to the cheese, Slim Jims, Mallomars, and chicharróns were found.  Apparently, he had thrown a brick through the window of a gas station, grabbed as much beer and snack food as he could, and took off.
A man in Alabama also apparently stole some hot dogs and candy from a Family Dollar and was ready to enjoy a bountiful meal when he was apprehended.  Apparently, one of the bags had torn open, and according Public Information Officer Robert Martin, he "left a trail of food down the street."
Normally, when police are "hot on the trail," it doesn't mean a literal one.  But it does make it all that much easier to solve a crime when actual trails are left.
Sources:
Ashland police follow trail of car parts, fluids to suspect
Cops Follow Trail Of Macaroni Salad Straight To Robbery Suspects
How Criminals' Snack Trails Have Led Them Straight into the Slammer