The cities' lawsuit explicitly calls the Trump administration's immigration agenda 'racist.'
---
Baltimore City and the town of Gaithersburg are suing the Trump administration for its decision to implement rules restricting the residency and citizenship eligibility of migrants deemed to be "public charges."
The lawsuit—at least in its latest rendition—doesn't shy away from making big accusations. According to the Baltimore Sun, the complaint explicitly says the Trump administration's "public charge" rule is implicitly racist, "designed to reduce legal immigration levels and disfavor poorer immigrants and immigrants of color."
The public charge rule, notes the Sun, is expected to take effect on 15 October. The policy itself, however, is a Trumpian re-envisioning of long-standing law. Under its decades-old dictate, migrants unable to prove themselves capable of living independently in the United States may be denied entry. But it was rarely enforced, its use narrowly reserved.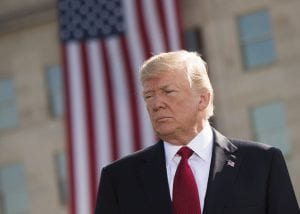 Under President Trump, the U.S. Immigration and Citizenship Services agency and its affiliates are casting a wide net. Migrants who've used any form of public benefits—whether programs for pregnant mothers or cash assistance—could be green cards or residency permits, whether they're new applicants or seeking a renewal.
Baltimore and its allies say that discouraging migrants from using benefits programs they may qualify for has many negative effects. It can scare elderly migrants off Medicare while shifting a larger financial burden upon individual states, cities and towns.
Casa de Maryland, an immigration advocacy group, says some of its clients have dropped out of critical assistance programs in fear of the "public charge" rule.
CASA, adds the Sun, has filed its own lawsuit against the Trump administration.
"Since earlier iterations of the Public Charge Rule were first reported in the media, some of CASA's members have disenrolled themselves and their children from public benefits to which they are lawfully entitled because of fear and confusion about what public benefits may affect their ability to stay in the United States and become [Lawful Permanent Residents] and, one day, U.S. citizens," the Casa de Maryland lawsuit claims.
Maryland's Attorney General, Brian Frosh, is part of a larger coalition of state attorneys general who have filed their own case against the federal government. In it, Frosh argues that the public charge rule's rigid application "will deter lawfully present, legally eligible immigrants or their family members from participating in […] 'public benefit' programs," forcing them into "state emergency programs" instead.
Nevertheless, Trump officials say they're only doing what's best for America—and what's best for America, since January 2017, tends to be what's worst for first-generation American families.
"President Trump has once again delivered on his promise to the American people to enforce longstanding immigration law," said Acting USCIS Director Ken Cuccinelli. It "encourages and ensures self-reliance and self-sufficiency. It will also help promote immigrant success in the United States as they seek opportunity here."
Sources
Baltimore, Gaithersburg sue Trump administration over 'public charge' rule limiting green cards, visas to immigrants on public assistance
Opponents Say Trump's Public Charge Rule Will Prevent Immigrants From Getting Needed Services