Are you interested in becoming a lawyer? There are definite steps to take to achieve that goal.
---
Working as a lawyer can be a rewarding profession because it provides an avenue for you to mingle with different kinds of people who have different problems and help them solve those problems. Because of the diversity of this career, you'll be able to enhance your problem-solving and interpersonal skills. A career as a lawyer can become an effective avenue for your personal and professional growth. However, before you can enjoy the benefits of being a lawyer, you have to meet several requirements first. 
Many people would want to work as a lawyer, but not everyone is cut for the job. Similar to other professions, being a lawyer will require more than just a college degree; for you to become a successful lawyer in America, you have to have the skills and experience, as well. To paint a clearer picture of what you need to know about becoming a lawyer in America, consider the points below:
Earn your bachelor's degree first.
Education is vital as a lawyer. Earning a bachelor's degree from a good school such as the University of Southern California is one of the most basic requirements before you can enter law school. And, while there are no specific courses or majors required for law school, courses which can improve your skills in logic, public speaking, writing, and research can be advantageous. Some law schools would even prefer students who have experience or background in different mentally challenging courses. 
If you're planning to build a career in this industry and you already have a preferred law school, base your decision on its requirements. If the law school you want only accepts students with a political science background, make sure you're going to take a degree or course which offers this subject. 
Take the Law School Admission Test (LSAT).
Being a lawyer is a serious business. The service you provide can change a person's life forever. Because of your role in your (future) client's life, merely earning your bachelor's degree isn't enough. If you want to become a lawyer in America, you have to take the Law School Admission Test or LSAT. This test is given four times a year—February, June, October, and December—and is given to check your critical thinking, comprehension, and reading skills. If you're unsatisfied with your scores from the LSAT, you can decide to take the test again. 
Acquire your Juris Doctor Degree.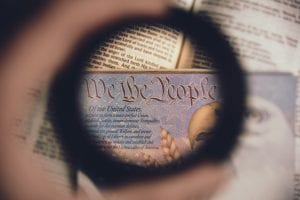 After getting your bachelor's degree, you will be qualified to enter law school, which will result in a J.D. degree. When you begin law school, expect that you will be taking courses involving constitutional law, legal writing, and contracts. These courses will become your fundamentals to become a lawyer. After you've completed these basic courses, you'll have the opportunity to choose courses based on your personal interests such as personal injury law, labor law, and corporate law. Aside from lectures and theories, you'll also be able to undergo mock trials, write law journals, and attend several legal clinics. Your exposure to these platforms will enable you to get a "feel" of how a lawyer works. 
Participate in a clerkship. 
Learning different theories in law is important in your career, but being able to apply all of these theories in real life is far more critical. As an aspiring lawyer in America, you should learn how to walk the talk. This is one of the reasons why you should undergo clerkship before working as a lawyer. You can do this through a part-time or summer clerkship at your preferred law firm or establishment. 
Undergoing a clerkship program can be an excellent way for you to gain experience in a law firm or business in the private or public sector. You'll have the first-hand experience of how to work as a lawyer and how to professionally mingle with clients. Your performance during your clerkship is vital because this can help you land a job in the future. Several law firms or businesses offer employment to law students after they graduate from law school. 
It's Worth It
When you work as a lawyer, you'll have the chance to change a person's life. In most cases, your expertise as a lawyer can go a long way for someone to avoid jail time and fines. If you want to create this impact in a person's life, invest in your education and skills to become a lawyer. Doing all of these might require your time, effort, and money, but everything will be worth it once you see how a person's life has improved because of your professional help.