The guard responsible for E.D.'s rape was charged and sentenced, but now Berks County attorneys are saying the relationship was somehow consensual.
---
Attorneys for a Berks County, Pennsylvania, detention center are asking a judge to throw out a lawsuit filed by a Honduran woman who claims to have been sexually assaulted by guards.
Attorneys for Berks County Family Residential Center say the woman's constitutional rights were never violated, as she claims. Instead, county officials are trying to argue that her 'relationship' with a guard was fully consensual.
According to The Morning Call, the county's arguments have yet to gain much traction. A federal appeals court dismissed some of Berks' claims earlier this month. If and when the case goes to trial, the detention center is liable to face far more scrutiny.
"What it means for us is we do get a chance to present this case to a jury," said attorney Matthew Archambeault, one of the attorneys representing the victim. "Hold Berks, the employees accountable. We're happy for that opportunity."
The complaint, recounts MCall, dates back to 2014. A young Honduran woman was detained in the U.S. while seeking asylum, locked up alongside her 3-year old son.
She sued in 2016, saying she'd been assaulted by former Berks County Family Residential Center guard Daniel Sharkey.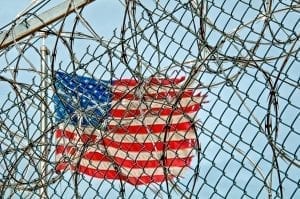 Soon after she was taken into custody, the woman—identified only by her initials, E.D—was approached by Sharkey. The guard allegedly began providing her and her son with treats, snacks and special meals. When E.D. refused his sexual advances, Sharkey threatened her with deportation.
E.D. says she lied about the assaults at first, fearing she and her son might be sent back to Honduras. But she did tell her attorney, who in turn reported the abuse to the U.S. Immigration and Customs Enforcement agency.
Sharkey pled guilty to institutional sexual assault in 2016 and was sentenced to serve between 6 and 23 months in Berks County prison. Despite Sharkey's conviction, the county is insisting that the relationship was purely consensual and that E.D.'s constitutional rights were never under assault.
According to E.D.'s lawsuit, all inmates have a right to be free from sexual assault and coercive relationships. A 3rd Circuit Court ruling reaffirmed her position, noting that any relationship between a prisoner and guard—consensual or not—is classified as a criminal offense.
Archambeault hopes the appeals court's ruling will give attorneys the chance to shut down the detention center for good. Because of Berks' indifference to E.D.'s complaints, Archambeault says, a 7-year old girl, along with other inmates, witnessed the repeated assaults.
"This case is a shining example of why it must be shut down," Archambeault said.
Sources
Immigrant's claim she was forced to have sex at government detention center moves closer to a jury trial
In lawsuit against Berks County detention center, court rules immigrants have right to be free from sexual assault