Robocallers are auto-dialing hospitals, tying up lines that need to be free for patient emergencies.
---
Just when we thought we could be free and clear of robocalling thanks to a new law rolled out by the Federal Communications Commission, we discover that the issue still exists – in a big way.  So big, in fact, that patient safety is at risk.
Tufts Medical Center in Boston, a hospital that many in the area rely on for routine visits as well as cancer treatments and everything in between continues to be bombarded with robocalls throughout the day, and physicians, administrators and other hospital staff struggle with robocalls that flood one line to the next, disrupting the hospital's communication for hours at a time.  This could literally mean the calls are putting patients at risk of not receiving proper medial treatment, or at worst, dying because they can't get through to the staff.
At Tufts, administrators registered more than 4,500 calls between about 9:30 and 11:30 a.m. on April 30, 2018, according to Taylor Lehmann, the center's chief information security officer. "Many of the messages seemed to be the same," Lehmann said, "Speaking in Mandarin, an unknown voice threatened deportation unless the person who picked up the phone provided their personal information."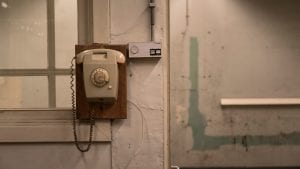 Vulnerable foreigners who already have to deal with a language barrier, and even the risk of being deported, on a daily basis may more readily give up their private data out of fear their families are at risk.  Thus, this is a commonly received robocall that has been well-documented.
Lehmann added that the call was particularly detrimental to Tufts, because the hospital is located in Boston's Chinatown neighborhood. "Officials there couldn't block the calls through their telecom carrier, Windstream, which provides phone and Web services to consumers and businesses.  There's nothing we could do," Lehmann said Windstream told them.
The biggest concern amongst hospital staff, physicians, and administrators nationwide who have been receiving robocalls at alarming rates is that eventually there won't be enough free lines to help a patient with a medical crisis.  This poses a significant risk to patient safety.  "Imagine a scenario when our phone system doesn't keep up," Lehmann added.
"These calls to health-care institutions and patients are extremely dangerous to the public health and patient privacy," said Rep. Frank Pallone Jr. (N.J.), the Democratic chairman of the House Energy and Commerce Committee. "The FCC and Justice Department need to go after these criminals with the seriousness and urgency this issue deserves."
Unfortunately, robocallers often adopt a technique known as spoofing to cover their tracks.  When this is used, the phone numbers have local area codes and/or look very similar to the recipient's.  Hospital staff may, therefore, think it's a local number and the call is coming from someone in need of help, pick up, and inadvertently allow the robocall to tie up a line.
"They can't not pick them up," said Steven Cardinal, a top security official at the Medical University of South Carolina, because they have to care about patient safety first. "They don't have any indicator it's a spoof until they answer it."
Of the FCC's recent crackdown, Geoffrey Starks, a Democrat, said, "Put simply, by allowing these calls to proliferate, we've broken phone service in this country."  He added that eliminating the majority of robocalls would save carriers billions of dollars "as network capacity is freed up and customer service representatives field fewer complaints."
Commission Chairman Ajit Pai said of those responsible for cold calling, "My message to them is simple: The FCC will stand with American consumers, not with those who are badgering them with unwanted robocalls."