It is hard being in a car accident, but a lawyer can help lessen your suffering as they'll focus on settling or making your case favorable for you. You can then concentrate on recuperating from your injuries. 
---
Being in a car accident is hard and frustrating because of injuries, medical bills, and loss of working hours. In worse case scenarios, you may end up unfit to work for a month or more. When that happens, you'll need a significant amount of money to pay your medical expenses as well as covering your daily needs. 
What's more frustrating are insurance companies' lawyers who would make your life harder when claiming for your loss and future needs. That's why it's advised to hire the services of an accident lawyer. 
When you hire a car accident lawyer, they'll help:
1. Get Your Car Accident Claim
If you think you can settle with an insurance company and get what you desire, then better be safe than sorry. Although you can communicate with insurers, they're not kind enough to give in to your requests. For some, they'll not even listen to your demands if they know that you're easy to deal with. 
Thus, you may need legal help, such as an auto accident lawyer Joe Stephens. Auto accident lawyers can do the following to get the desired claim you deserve:
Settlement – in some cases, you might need to settle your case. If you're dealing with experienced insurers, then you might not get a good result. 
With an accident lawyer, if you have chosen the right one, you don't need to worry about their negotiation skills. Moreover, with an experienced car accident lawyer, they know what strategies to use when negotiating. 
Lien Holders – if you think that you'll get the full benefits from a worker, disability, or health insurer, then you're wrong. Before you get compensation, the insurer will get a percentage out of it. This is called the lien. 
A car accident lawyer can reduce the lien that the insurer will get. Thus, maximizing the benefits you'll receive.
Evidence – when you've been involved with a severe car accident, then the evidence is vital to make your case favorable to you. However, getting documentary evidence is not only critical but also tedious. It's not even easy to request such documents for a layperson. It's because health care providers don't prioritize giving out your records. 
Although it may take up some time, car accident lawyers help you obtain such records. In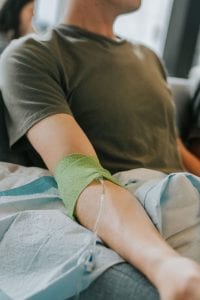 some cases, they'll also help you acquire the causation of your injuries from your doctor if it's not indicated on your records. Not only on paper, but lawyers will physically go to the scene of the accident to obtain necessary evidence or to take a photograph of what might've happened. 
2. Assist and Represent You in Court
In some cases, you may end up in litigation. Litigation happens when both parties cannot settle the case outside the court. This involves resolving disputes between you and the other party involved during the car accident with the guidance of a judge and/or jury.
So, if you cannot come up with the right settlement with the at-fault party's insurance company, suing the at-fault party might be the right choice. But, to win the case, you'll need an expert in such an area. 
Therefore, an accident lawyer is vital for the following reasons:
To win cases that are technical and complicated, you'll need a legal expert because they're well-knowledgeable in such areas.
Knows the staff of the court, such as the court reporter. This is an advantage on your side especially with a lawyer with a good reputation. If your attorney has a good relationship with the court staff, they may get some tips about the case from them.
Deliver a good and well-constructed opening statement that includes the summary of the parties' arguments and the facts of the case.
Cross-examine or question witnesses to extract information relevant to the case.
Present evidence of the case that's favorable on your part and make closing statements that should make the jurors return a favorable decision on your part. 
3. Deal With Your Creditors
As mentioned, you might be unfit to work when involved in a car accident. And a day's loss of work means piling up of bills and debts. Especially when you can't work for months, you might end up unable to pay for any of your financial responsibilities. As a result, not only will your debt increase due to interests and added fees, but it'll also stress you out. 
If you have no emergency funds to pay your creditors, your car accident lawyer can give a hand. A car accident lawyer can do the following in this case:
Notify and talk to your creditors about your situation, which might affect your obligation to pay.
Check whether you have credit disability insurance.
Present more options for you, such as filing for bankruptcy or settling your debts.
Give advice on how you can deal with creditors that may have violated the Fair Debt Collection Practices Act. Also, they can even defend you when creditors file a lawsuit against you.
Conclusion:
It is hard being in a car accident, but a lawyer can help lessen your suffering as they'll focus on settling or making your case favorable for you. You can then concentrate on recuperating from your injuries. 
When you have no background with documentation and litigation, a car accident lawyer can be of help. That's why you must choose the best car accident lawyer to gain more advantage.