The class action claims that even after changing its privacy policy, TikTok continues to harvest user information for its parent company in China.
---
TikTok, a video-sharing platform popular among youth, is being hit with a class action alleging that it illegally harvested and sold user data to its parent company in China.
According to The Daily Beast, the lawsuit was filed by Misty Hong.
Hong, a university student from Paolo Alto, claims that TikTok and its China-based parent company, ByteDance, failed to protect consumer data. The complaint alleges that both companies intentionally and negligently violated federal statutes governing data gathering and digital privacy.
The class action, says The Daily Beast, aims to win its members punitive damages. It's also seeking an injunction against TikTok that would prevent the company from continuing to send user data, like facial scans and thumbprints, from the U.S. to China.
Hong says that TikTok and ByteDance took steps to conceal their data-sharing arrangement, suggesting the companies knew they were breaking federal law.
"At the same time that Defendants utilized Musical.ly and TikTok apps to covertly tap into a massive array of private and personally-identifiable information [sic], they went to great lengths to hide their tracks," the lawsuit says.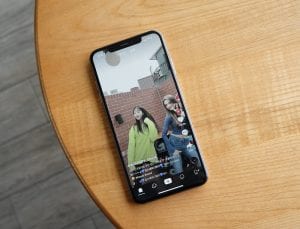 TikTok, adds The Daily Beast, is the first social media powerhouse to have been developed by a China-based firm. It's been downloaded nearly a billion times in the past year.
The Daily Beast's recounting of the class action says that ByeDance used Musical.ly—which became TikTok after November 2017—to "secretly gather users' locations, ages, private messages, phone numbers, contacts, genders, browsing histories, cell-phone serial numbers, and IP addresses. That data was allegedly then sent to Chinese servers."
Early renditions of TikTok's terms of service and privacy policy explicitly stated that user data might be sent to China. But even after TikTok rescinded such clauses, the app continued sharing data with ByteDance.
Hong claims that TikTok transferred user data to Chinese servers as recently as 2019. And her class action is very particular in its allegations—it says that, between the time a user records a video and posts it, TikTok covertly saves the clip and transfers it to ByteDance servers in China.
NBC News notes that the lawsuit makes additional claims—for instance, that TikTok retains source code created by Baidu as well as other code from Igexin, a Chinese advertising service. In 2017, researchers found that Ixegin's code allowed developers to install spyware on users' phones.
TikTok's close ties with China have brought the company controversy in other ways, too. As The Hill reports, TikTok faced significantly backlash after a U.S. teenager's account was suspended. The teen—17-year old Feroza Aziz—recorded what first appeared to be a "beauty video," but segued into a criticism of the Chinese government's treatment of Uighur Muslims.
Aziz's video went viral. But TikTok removed it, then banned her account.
TikTok later apologized and claimed Aziz's suspension was accidental.
Sources
California Class-Action Lawsuit Accuses TikTok of Illegally Harvesting Data and Sending It to China
California student's lawsuit accuses TikTok of sharing data with China
TikTok accused in California lawsuit of sending user data to China
TikTok accused in California lawsuit of sending user data to China
TikTok apologizes after teen's video criticizing China was removed, her account locked