An investigation into the facility is still ongoing, but attorneys say it appears that Return to Nature Funeral Home gave multiple customers crushed concrete in the place of human ash.
---
A Colorado man has filed a prospective class action lawsuit against the Return to Nature Funeral Home in Penrose, claiming that the facility mishandled hundreds of bodies.
According to USA Today, the lawsuit was filed in Fremont County District Court earlier this week. In his complaint, lead plaintiff Richard Law says that the body of his father, Roger Law, was among 200 corpses that had been allowed to languish inside the funeral home for years.
Attorneys for Law say that Return to Nature Funeral Home told his client that his father had been cremated in 2020. In reality, Roger Law's remains were "allowed to decompose in squalid conditions at the Penrose property."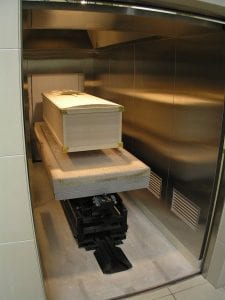 Richard Law was then presented with an urn full of crushed concrete, which he was told were his father's ashes.
Andrew Swan, an attorney for Law and other families, said that he is disturbed by Return to Nature's refusal to admit that pandemic-related demand exceeded its capabilities.
"It's not like Return to Nature received all 189 bodies all at once," Swan said. "We know that, starting three years ago when bodies were filling up, they kept taking more money and more bodies. They were doubling down time and time again."
Law enforcement later raided Return to Nature, removing at least 189 bodies. However, Fremont County Sheriff Allen Cooper said that it is possible that this number could increase.
"Return to Nature Funeral Home and its owners took advantage of these families' trust and lied to them about what happened to their loved ones' bodies," the lawsuit alleges. "In some cases (including in Roger's case), the owners went as far as to return counterfeit ashes to the decedents' families and falsify the decedents' death certificates."
Other customers aside from Law say that they likely received crushed concrete in place of human remains.
"On information and belief, Defendants routinely gave crushed concrete and other counterfeits to its customers to deceive them into believing that their loved ones had been properly cremated," the complaint says.
Swan said that the lawsuit's main intent is to call attention to Colorado's poor mortuary regulations, which do not require that funeral home directors be certified or hold any particular educational credentials.
"[The owners of Return to Nature] could open a new funeral home tomorrow morning," Swan said. "We want to shine a bright light on their misconduct."
Law's father was identified through fingerprints. The revelation, attorneys say, forced Law back into grieving.
"Roger deserved better," the lawsuit states. "So did the other 188 victims found at the Penrose Property."
Sources
Class action lawsuit filed against Return to Nature Funeral Home
Funeral home gave grieving relatives concrete instead of ashes, man alleges in new lawsuit
Lawsuit filed against Colorado funeral home where 189 improperly stored bodies were discovered