Firearms manufacturer Colt says it'll discontinue its civilian AR-15 line to focus on fulfilling military orders of the same.
---
Colt is preparing to suspend production of AR-15 rifles for the civilian market, saying instead it will concentrate on military contracts and law enforcement orders.
"The fact of the matter is that over the last few years, the market for modern sporting rifles has experienced excess manufacturing capacity," said Colt Defense LLC president and CEO Dennis Veilleux in a Thursday statement. "Given this level of manufacturing capacity, we believe there is adequate supply for modern sporting rifles for the foreseeable future."
As National Public Radio reports, the AR-15 is a rifle that's seen it's fair share of controversy. Modeled after the military's M16, the semi-automatic, assault-style AR-15 has been used in a number of mass shootings.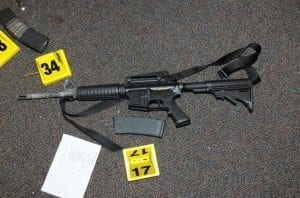 SUNY-Cortland political science Professor Robert Spitzer told Connecticut Public Radio that, even though AR-15s "represent a small percentage of guns in America," they occupy an outsized place in the public consciousness.
"Politically speaking, these weapons have come to be seen as sort of at the core of America's gun problem," Spitzer said.
Despite Colt's decision to limit sales, Veilleux insists that the company "is committed to the Second Amendment, high values its customers and continues to manufacture the world's finest quality firearms for the consumer market."
UCLA School of Law gun policy expert Adam Winkler—quoted by NPR and speaking to The Associated Press—suggests that companies like Colt must tread lightly if they're to avoid antagonizing customers.
"We've seen in the past that when gun manufacturers are viewed to have given in to gun-safety advocates, gun owners will boycott them and really hurt their business," Winkler said. "If they think a company like Colt is disrespecting their identity or giving in to the other side, Colt's likely going to see serious damage to its other firearms brands too."
One way or another, gun control advocates, while pleased, don't seem keen to celebrate.
"With the timing, it makes you scratch your head and wonder if they're not serving the political winds around this issue," Andrew Patrick, director of political communications at the Coalition to Stop Gun Violence, told CNBC.
Other industry players were keen to point out that Colt is by no means the only company which makes AR-15-type rifles.
"The AR-15 market is very crowded and very competitive," National Shooting Sports Foundation Director of Public Affairs Mark Oliva said. "There are a lot of people who are making AR-15s on a small scale."
One way or another, says Patrick, Cole's departure signifies some progress, if only in moderation.
"Colt has a name associated with it and there is a history around Colt's firearms so I think there is a symbolism there," Patrick added. "Will it start a trend? I'm skeptical but it's progress. There will be one less AR manufacturer, and that's always a good thing."
Sources
Colt Suspends Manufacture Of Controversial AR-15 For Civilian Market
Colt will no longer make AR-15s for civilians, but gun control advocates might not have much to celebrate