Still centered on Equifax's 2017 data breach, congressional encounters with credit reporting CEOs yielded harsh words and plans to pass the industry's power to consumers.
---
Lawmakers are continuing to hound Equifax over its massive 2017 data breach, which affected and exposed the personal information of an estimated 148 million Americans.
On Tuesday, California Rep. Katie Porter initiated an interrogation of Equifax's top brass.
"My question for you is whether you would be willing to share today your social security, your birthday and your address at this public hearing," Porter, a freshman representative and Democrat, asked.
"I would be a bit uncomfortable doing that, congresswoman," Equifax CEO Mark Begor said. "If you would oblige me, I'd prefer not to. It's sensitive information that I like to protect, and I think consumers should protect theirs."
Porter, writes MarketWatch.com, asked what he was worried about.
"I'd be concerned about identity theft," he replied. "I'm actually a victim of identity theft. It happened three times in the last 10 years to me."
According to MarketWatch, that was enough to incite Porter, who's also a law professor at the University of California-Irvine.
"If you agree that exposing this kind of information—information like that you have in your credit reports—creates harm, therefore you're unwilling to share, why are you lawyers arguing in federal court that there was no injury and no harm created by your data breach?" she asked.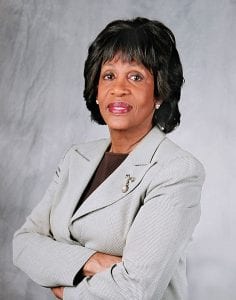 Porter wasn't alone in her pointed aggression. Other legislators joined in the criticism of Equifax—among Porter's colleagues, fellow Californian and Democrat Maxine Waters, who called for a consumer-friendly overhaul of the credit reporting industry.
"To credit reporting bureaus, consumers aren't consumers. They are commodities," Waters said, telling the collected heads of Equifax, Experian and TransUnion that Americans have no choice to switch providers if they're dissatisfied with service.
The Los Angeles Times explains the discord: credit bureaus collect a variety of information about consumers, pertaining to their payment history on mortgages, credit cards, auto loans, outstanding debt and other obligations.
But they've little interaction or contact with consumers themselves. Rather, credit bureaus serve whichever companies request a copy.
"This commodification of consumers and their personal data is the core reason why our nation's consumer credit reporting system is broken," Waters said.
Waters is working on a solution. Last week, she released a discussion draft of a bill she believes could fix a very broken system.
According to the Times, the 199-page bill reduces how long negative information can stay on credit reports. Currently seven years, Waters' resolution would wind it down to four.
And consumers who do make efforts to settle accounts would be fairly rewarded—under Waters' plan, such accounts would have to be removed from credit reports within 45 days of the debt being fully paid or settled. Moreover, says the Times, Waters wants to restrict the widespread utility of credit checks, rendering them irrelevant for employment except when required by federal, state or local law, or as conditions of a security clearance.
The bill would also shift the onus of removing faulty of information from consumers, forcing credit bureaus to correct their own mistakes.
Not surprisingly, the credit reporting CEOs assembled before Water were less than enthusiastic about possible blows to their business.
Editor's Note:  the quote as originally published omitted certain words that have been added and are in bold font. "It could negatively affect a lender's ability to assess risk […] [and] it has the risk of increasing the cost of consumers' access to credit," said Craig Boundy of Experian.
Unfortunately for Boundy and his comrades, the credit industry isn't just taking flak from Democrats. According to the Los Angeles Times, Republican legislators also condemned the bureaus, with Rep. Patrick McHenry (R-NC) declaring them an "oligopoly."
"We have three of you not really competing and the consumers are the ones that are losing out. I think that's a problem," he said. "How does an oligopoly protect consumers?"
Receiving only silence, McHenry simply said, "Okay."
"I'll take that as an answer."
Sources
Congresswoman asks Equifax CEO for his personal data as she hammers company's legal moves
Credit reporting agencies face pressure from skeptical U.S. Congress
Maxine Waters proposes consumer-friendly overhaul of credit reporting industry