Attorneys say Harvard profits off a 19th-century picture of Tamara Lanier's ancestor, possibly violating the 13th Amendment.
---
A Connecticut woman is suing Harvard University over its ownership and publication of two photographs featuring 19th-century slaves.
According to the Associated Press, the complaint was filed Wednesday by Norwich resident Tamara Lanier.
Lanier, who claims to be a descendent of slaves, says Harvard profits from the pictures and has repeatedly refused requests from her family to transfer the photographs into their possession. To that end, the lawsuit demands that Harvard relinquish the pictures, acknowledge Lanier's ancestry and pay an unspecified amount in damages.
The New York Times notes that the photographs were taken under troubling circumstances. Originally commissioned by a Harvard professor, the images, akin to mugshots, were taken as part of a study that argued that black people were an inferior race.
The photographs show two slaves, a father and daughter. While the two are identified only their first names—Renty and Delia, respectively—the Lanier family says the images are records of a deeply personal family history.
"To [Professor Louis] Agassiz, Renty and Delia were nothing more than research specimens," the lawsuit says. "The violence of compelling them to participate in a degrading exercise designed to prove their own subhuman status would not have occurred to him, let alone mattered."
Benjamin Crump, an attorney for Tamara Lanier, suggested the litigation could have sweeping consequences for the descendants of slaves.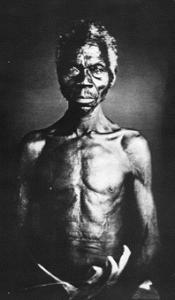 "It is unprecedented in terms of legal theory and reclaiming property that was wrongfully taken," Crump said. "Renty's descendants may be the first descendants of slave ancestors to be able to get their property rights."
Along with chasing property rights, the lawsuit criticizes Harvard's alleged "exploitation" of Renty's image at a 2017 conference.
Aside from being featured in Harvard exhibitions, Lanier's suit claims that the university charges "hefty" licensing fees to anyone seeking to reproduce the images. Harvard even sells a $40 book called "From Site to Sight: Anthropology, Photography, and the Power of Imagery" with Renty's portrait atop its cover.
Crump says that Harvard's ability to continue making money off Renty and Dalia is a contemporary form of exploitation—and may even run afoul of the 13th Amendment's prohibition on slavery.
"Renty is 169 years a slave by our calculation," Crump said. "How long will it be before Harvard finally frees Renty?"
Harvard spokesman Jonathan Swain said the university "has not yet been served, and with that is in no position to comment on this complaint."
Both the New York Times and Associated Press note that many universities have become more forthcoming and apologetic about their historical ties with slavery and the slave trade. Harvard Law School recently abandoned elements of its crest, which were based off the insignia of a slave-owning family that helped endow the institution.
In a similar spirit, Georgetown University began offering admissions advantages for the descendants of the same slaves who were sold to fund the school.
Lanier's lawsuit, writes the AP, claims Tamara has DNA evidence that she's descended from Renty. Asked what she'd do if her suit is successful, Lanier said she'd tell the world "the true story of who Renty was."
"By contesting Ms. Lanier's claims of lineage, Harvard is shamelessly capitalizing on the intentional damage done to black Americans' genealogy by a century's worth of policies that forcibly separated families, erased slaves' family names, withheld birth and death records, and criminalized literacy," the suit says.
Sources
Lawsuit: Harvard 'shamelessly' profits from photos of slaves
Who Should Own Photos of Slaves? The Descendants, not Harvard, a Lawsuit Says