Officials approved part of the man's asylum application and freed his wife. But he remained behind bars for months.
---
A Cuban man who'd spent months seeking asylum in the United States has committed suicide.
According to The Washington Post, Roylan Hernandez-Diaz spent his last days increasingly frustrated. U.S. immigration officials refused to process his application, repeatedly asking for more evidence of what persecution he'd face if he were sent back to Cuba.
Held in an Immigration and Customs Enforcement detention center in rural Lousiana, Hernandez-Diaz spent over four months in lock-up.
On October 9th, Hernandez-Diaz was found dead in his cell. While the case remains under investigation, ICE says the cause of death was "self-inflicted strangulation."
The Washington Post notes that Hernandez-Diaz is the second detainee to die in ICE custody this October. He's also part of a rapidly growing contingent: Cubans, who were once entitled to legal residency if they managed to reach the U.S. mainland. But that policy was reversed under former President Barack Obama. Today, immigration officials are ever-more skeptical of Cuban asylum claims, saying the island's far-left government isn't as repressive as it was under Fidel Castro.
However, Hernandez-Diaz's wife—Yarelis Gutierrez—told BuzzFeed and other sources that Roylan was an outspoken critic of the Cuban government. He tried to escape the island three times and spent nine years in prison.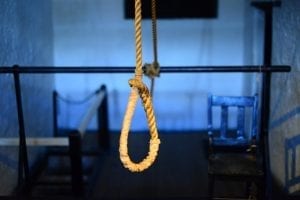 Gutierrez said that, due to Obama-era changes to the "wet foot, dry foot" immigration policy, she and her husband were forced to take a circuitous route to the United States. They traveled through the Caribbean and to South America before working their way up to the U.S.-Mexico border.
"I've gone through millions of struggles but thanks to God being with me, I got post them all," Gutierrez said in a June video posted to her Facebook feed. "I asked God to bring me here safely and healthily, for me to be able to cross the jungle without seeing any animals or coming across any dangers."
In Mexico, the couple was briefly detained by immigration officials before being allowed to carry on northward.
"We went through terrible things," she said. "When we got to Mexico, it was hard for us. We didn't have any economic means, but God always aided us, always found a way to help us. An outstretched hand always appeared."
Once the duo finally reached the U.S.-Mexico border, ICE officials conducted an asylum interview and determined the two had a "credible" fear of persecution if they were returned to Cuba. While Gutierrez was quickly released from detention, her husband remained behind bars, stuck in an ICE facility managed by a private contractor, LaSalle Corrections.
The contractor in charge of Hernandez-Diaz's facility, Richwood Correctional Center, has been criticized for using solitary confinement as a routine punishment for petty offenses. Many of the guards can't speak Spanish and are poorly trained.
One detainee, recounts the Post, told Mother Jones that he was abandoned in solitary for 40 days. Heavily medicated and beset by suicidal thoughts, he began hearing voices.
And, as the Post notes, the location is problematic. Many of ICE's detention centers in the Deep South are located in very rural areas. Inmates have a difficult time coordinating with attorneys, family members and survivors. And local courts tend to be hostile, refusing parole applications at a rate far higher than in other parts of the country.
Hernandez-Diaz, along with other Cuban detainees, participated in a days-long hunger strike shortly before his death.
"He told me he was going to participate in a hunger strike because of the abuse he endured in detention," Gutierrez said. "He never said he was going to hurt or kill himself."
"Today, it was my husband," she told Mother Jones, "but how many have there been before? How many more will there be if we don't control this?"
Sources
A Cuban Asylum-Seeker Died Of An Apparent Suicide After Spending Months In ICE Detention
A Cuban immigrant asked for asylum. After months of detention, he killed himself, ICE says.
"Justice is needed": Death of asylum-seeker in ICE custody sparks cries for reform