The EEE virus spreads across Michigan.
---
Kaylee Hardenbrook, a 26-year-old mother of two from Paw Paw, Michigan, was told by her doctor that she might not live.  And, if did does, she'd probably never walk again.  Hardenbrook had been paralyzed by a rare mosquito-borne virus called Eastern equine encephalitis (EEE).  This is the same virus that killed a Kalamazoo County man and caused Savanah Dehart, a 14-year-old girl from South Portage, to go into a coma.
The total number of cases of EEE in Michigan remains unknown as more and more people are being tested.  New cases of EEE are possible as long as infected mosquitoes continue to bite people before they do dormant in the winter months, experts say.
Five years after she contracted the virus, Hardenbrook is sharing her story to give hope to others in Michigan who've been struck by the disease, which kills 1 in 3 people who are infected.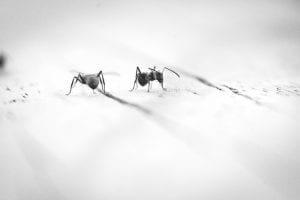 "My prognosis was awful," said Hardenbrook, who had given birth to her second son, Sylas, now long before developing symptoms in 2014.  The illness became noticeable a few days after she had attended a country concert at the county fair.  The nausea and vomiting were so bad she went to the ER on several occasions, only to be treated for dehydration and released.  Eventually, she became too weak to walk.
"And then my husband woke up in the middle of the night to me hitting him like I was having a seizure," Hardenbrook said.  She was in a coma for five days after that and physicians found she had encephalitis leading to swelling in her brain, as well as meningitis.
Richard Van Enk, director of infection prevention and epidemiology at Bronson said the name of the virus can be deceiving.  "The term equine implies that the major source is horses, and they are not," Van Enk said. "Horses are dead-end hosts like we are.  It is a disease between birds and mosquitoes."  Birds living in hardwood swamp areas can carry the EEE virus and when the mosquitos bite the birds, they can then pass it to humans.
EEE carries with it a high fatality rate.  "The virus causes mild or no symptoms in most people, Van Enk said, but in those who develop a severe form of the disease, only about one-third make a full recovery."
Hardenbrook is one of those lucky few.  She said, "When the doctor told me I was paralyzed, I was like, 'Well, I have two small boys.  That definitely is not going to happen'.  My nerves were re-firing in my spinal cord, so I felt like I was getting electrocuted.  That went on for like two or three months after.  I had to learn to re-walk and how to use the bathroom.  That was weird.  Someone would push a wheelchair behind me, and someone would stand in front, and I would just try to walk. "Because I was kind of wobbly at first, I would always fall to the side. I did a lot of weight exercises, too, like with my arms."
She is grateful to be symptom-free toay.  Hardenbrook explained, "I don't have any long-term symptoms.  The doctor had said to me the whole time that I was lucky that I was young, and I was healthy."
"Avoiding mosquito bites is the best way to stop the spread of EEE," which means wearing bug-spray, said Jim Rutherford, health officer for the Health and Community Services department in Kalamazoo County.  He added, "We hope people are listening and are taking measures to protect themselves.  This is preventable."
Sources:
Eastern equine encephalitis: Mom shares how she survived the rare mosquito-borne virus
Mom tells encephalitis survival story as virus spikes in western Michigan