Democrats are calling for an investigation into I.C.E., saying its admission of force-feeding inmates could constitute a violation of the United Nations Convention against Torture.
---
Some fifty Democratic lawmakers have called for an investigation into the U.S. Immigration and Customs Enforcement agency and its practice of force-feeding detainees on hunger strike.
I.C.E., reports CBS News, confirmed Tuesday that it had force-fed nine Indian men who'd refused food in Texas. The strike participants were restrained and fed through nasal tubes.
The abuses took place at an I.C.E.-administered detention facility near El Paso, Texas.
Last week, a U.S. district judge ordered the government to stop feeding inmates against their will. I.C.E. and its El Paso offices have said they've complied.
In response to the startling allegations, 49 Democratic leaders have petitioned the Department of Homeland Security Office of Inspector General to investigate conditions and policies at I.C.E. detention centers. Earlier in February, writes CBS, the human rights wing of the United Nations signaled that force-feeding could violate the U.N. Convention against Torture.
"We implore you to exercise your oversight responsibilities to make improving conditions at immigration detention facilities a top priority for ICE and ensure the humane treatment of detainees in federal custody," said the letter, composed by Reps. Suzanne Bonamici (D-OR) and Veronica Escobar (D-TX).
Both Bonamici and Escobar toured the El Paso Processing Center and met with men who'd been force-fed.
"These complaints reveal unequivocal abuses of power that violate the rights of detainees," they said.
While I.C.E. has refused opportunity to comment on any potential investigation, agency spokespersons maintained they have a "strict zero-tolerance policy for any kind of abusive or inappropriate behavior" in their facilities.
I.C.E. says that it reports any and all allegations of wrongdoing to the Department of Homeland Security Office of the Inspector General, as well as their own Office of Professional Responsibility.
"For their health and safety, ICE closely monitors the food and water intake of those detainees identified as being on a hunger strike," the agency claimed in a statement. "ICE does not retaliate in any way against hunger strikes."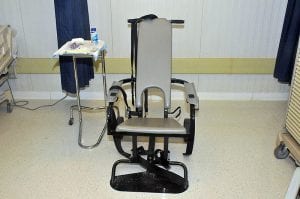 According to the agency's own count, an estimated 13 immigrants held across the country are currently participating in hunger strike. Their nationalities vary, with some from Cuba, India, Mexico and Nigeria.
Of the total 13, CBS notes that 10 are being held at the El Paso Processing Facility; the other three are in Georgia, Florida and Arizona, respectively.
CBS recalls how one man on strike, an asylum-seeker from the Indian state of Punjab, claims he was "dragged" into his cell three times per day and strapped to a bed as groups of I.C.E. employees poured liquid through tubes and into his nose.
He and another Punjabi inmate say they've suffered persistent, recurring nosebleeds along with nausea and vomiting.
They were detained after illegally walking across the U.S.-Mexico border near El Paso and have been on hunger strike for over a month.
Advocates claim that, in addition to force-feeding, I.C.E. has thrown immigrants into solitary confinement for petty offenses and simple transgressions.
Nonprofit group Freedom for Immigrants claims that at least 1,396 people have gone on hunger strikes in I.C.E. and privately-administered detention centers since 2015.
"By starving themselves, these men are trying to make public the very suffering that ICE is trying to keep hidden from taxpayers," said FFI director Christina Fialho.
Fialho says she can't recall any other instances of immigrants being force-fed in the United States, since other detainees on strike eventually opted to eat.
Sources
APNewsBreak: ICE force-feeding detainees on hunger strike
Democrats want investigation of immigration officials force-feeding immigrants