Until recently, dentists seemed to have had no idea they were playing a part in feeding a dangerous epidemic that resulted 70,237 U.S. drug overdose deaths in 2017 alone, according to the Centers of Disease Control and Prevention (CDC).
Today, with Americans more likely to die of an opioid overdose than a car accident, the CDC says, and these painkillers are being prescribed by dentists and oral surgeons post-op, after routine procedures such as getting one's wisdom teeth pulled.  Yet, for the longest time, dentists and oral surgeons seemed to have no idea they part of the game.
"It's almost a rite of passage in the United States having your wisdom teeth out," said Andrew Kolodny, who co-directs opioid treatment research at Brandeis University. "The aggressive prescribing of opioids to adolescents may be why we're in an epidemic."
Because teenagers and young adults are typically the ones who walk in to the office wanting these teeth extracted, this demographic at greatest risk is young and impressionable.  A 2011 article in the Journal of the American Dental Association stated dentists prescribe twelve-percent of painkilling opioids, just behind family doctors, who prescribe fifteen-percent.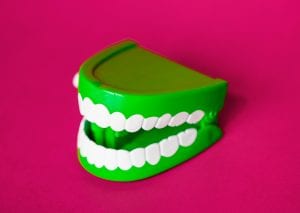 "But anti-inflammatory analgesics, such as ibuprofen and acetaminophen, generally work better than opioids at easing acute dental pain," according to an April 2019 study in the same publication.
"Dentists and oral surgeons are the number one prescribers of opioids to teenagers.  What's so disturbing is that it's so unnecessary.  These are kids who could have gotten Advil and Tylenol," Kolodny said.
Recent research suggests that opioids dispensed after wisdom teeth extractions could place teens and young adults at an increased risk for addiction.  In fact, "approximately six percent of almost 15,000 people between ages 16 and 25 were diagnosed with opioid abuse within a year of receiving initial opioid prescriptions from dentists in 2015," a JAMA Internal Medicine analysis found.
Last year's JAMA report reviewed the claims of 71,000 people ages 13 to 30 who had their wisdom teeth removed between 2009 and 2015.  "Those who filled opioid prescriptions were 2.7 times more likely than those who didn't take home opioids to be filling opioid prescriptions long after any post-surgical pain should have subsided," the report found, and "teens and young adults with a history of chronic pain, anxiety or depression were most likely to progress to persistent use after filling their initial wisdom teeth-related prescriptions."
Calista Harbaugh, lead author of the JAMA study and a University of Michigan at Ann Arbor surgery resident who studies narcotic prescribing in children said dentists could be "playing an outsized role in the opioid epidemic."  She added, "We know there is vast overprescribing of opioids.  To turn around this epidemic, we all are going to have to play a role, and that includes dentists."
Romesh Nalliah, a professor at the University of Michigan School of Dentistry and a co-author of the JAMA study, pleaded "guilty" to his part in overprescribing opioids in the past, but no longer prescribes them at all.  "Dentists are also business owners," he explained. "They don't want patients to say, 'Dr. Nalliah did my extraction, and now I'm in agony.'"  He added that, with more knowledge, "I don't want to be responsible for someone becoming addicted to opioids.  I personally think we can cut opioid prescribing in dentistry to less than half of what we do now."
Sources:
Unwise and unnecessary: Opioids for wisdom teeth extractions
Those who fill an opioid prescription for wisdom tooth removal are nearly three times as likely to keep using