The Justice Department has given Texas until Monday to commit to removing a controversial, razor wire-covered "border wall" from the Rio Grande.
---
The U.S. Department of Justice has served Texas Gov. Greg Abbott notice that it intends to file a lawsuit over a "floating" border wall the Lone Star State recently installed within the Rio Grande.
According to USA Today, the Justice Department's notice gives Texas until Monday to commit to removing the barrier.
If there is no response, the federal government has vowed to proceed in its claim against Gov. Abbott and his administration.
"The State of Texas's actions violate federal law, raise humanitarian concerns, present serious risks to public safety and the environment, and may interfere with the federal government's ability to carry out its official duties," the Justice Department wrote in its letter to Abbott.
Abbott, however, has since responded to the notice, saying that Texas has "sovereign authority" to defend its borders against illegal immigration.
Writing on Twitter, Abbott said that President Joe Biden's "refusal" to secure the border effectively forced Texas into taking measures into its own hands.
"Texas has the sovereign authority to defend our border, under the U.S. Constitution and the Texas Constitution," he wrote. "We have sent the Biden Administration numerous letters detailing our authority, including the one I hand-delivered to President Biden earlier this year."
"The tragic humanitarian crisis on the border was created because of Biden's refusal to secure the border," he added. "His open border policies encourage migrants to risk their lives crossing illegally through the Rio Grande, instead of safely and legally over a bridge."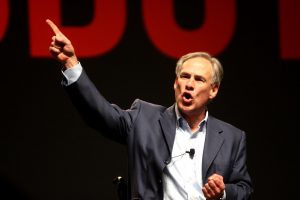 "We will continue to deploy every strategy to protect Texans and Americans—and the migrants risking their lives," Abbott wrote on Twitter. "We will see you in court, Mr. President."
However, USA Today reports that many Texas politicians—mostly Democrats—have criticized Gov. Abbott's installation of the floating border barrier, noting that the federal government is responsible for the enactment and enforcement of immigration policy.
"Operation Lone Star's programs and policies, specifically the recent erection of razor wire or buoy walls, pose a huge danger to migrants and impede the ability of our border patrol offices to safely and humanely treat migrants as well as to comply with relevant federal and international laws," Rep. Joaquin Castro (D-TX) wrote in a letter, co-signed by dozens of other congressional Democrats.
Castro further told KXAN that Gov. Abbott's immigration enforcement actions are clear violations of international and federal law.
"I do think there's a reason why previous Texas governors have not taken a similar action, because they understood that this is a federal authority," Castro said. "What you do in an international body of water is not, has nothing to do with state authority. That's federal authority. And so I do think that Gov. Abbott is going to end up being shut down in court."
Sources
Department of Justice warns of lawsuit over Texas border buoys along Rio Grande
Justice Department to sue Texas Gov. Abbott over razor wire, floating barrier along US border