The pseudonymous plaintiff alleges that Watson coerced her into performing a sex act during a 2020 massage session.
---
Suspended Cleveland Browns quarterback Deshaun Watson is facing yet another sexual misconduct lawsuit, with the most recent complaint filed by a woman claiming that the athlete pressured her into performing a sex act.
According to NBC News, Watson's current status with the N.F.L. has not been affected by this most recent lawsuit.
Watson, notes NBC, is currently facing an 11-game suspension for sexual misconduct, which began when he was still assigned to the Houston Texans.
Representatives for Watson declined NBC's request for comment.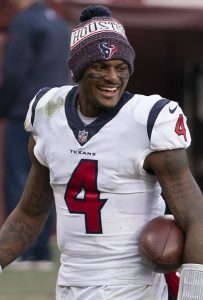 In her complaint, filed Thursday in a Texas court, the anonymous plaintiff alleges that Watson coerced her into performing a sexual act during a massage session in 2020.
Defector reports that the plaintiff said she has sought counseling for depression and anxiety since the incident; she said that she filed the lawsuit "to raise awareness, and to prevent Deshaun Watson and those like him from engaging in further conduct with other future victims."
As LegalReader.com has reported before, more than two dozen women have already accused Watson of soliciting them for sexual services during massages sessions; many of the same women later filed legal complaints against him.
To date, Watson has settled at least 23 lawsuits relating to his alleged misconduct.
Speaking to the press, N.F.L. spokesperson Brian McCarthy said that the latest lawsuit will not affect Watson's standing with the league.
"We will monitor developments in the newly-filed litigation; and any conduct that warrants further investigation or possible additional sanctions would be addressed within the Personal Conduct Policy," McCarthy told NBC in an emailed statement.
While Watson remains suspended, he is permitted to attend Browns team meetings and exercise sessions.
However, Watson is not allowed to practice until at least November 14th.
Watson's return, adds NBC News, is largely contingent on his adherence to the terms of a settlement signed with the National Football League: in exchange for eventually being allowed to return to the field, Watson consented to the 11-game ban, agreed to pay a $5 million fine, and said that he would seek treatment and attend independent therapy sessions.
Defector observes that Lauren Baxley, the plaintiff in the only other active lawsuit against Watson, said that she had rejected numerous settlement offers because Watson seemed neither sincere nor apologetic.
Baxley, writes Defector, said she could not reach an agreement with Watson "in part because [Watson and his legal counsel] have not included any sincere acknowledgement of remorse and wrongdoings, nor have they included any promises of rehabilitative treatment."
Sources
Cleveland Browns quarterback Deshaun Watson hit with another sexual misconduct lawsuit while on NFL suspension