The most obvious suspect for liability in an industrial plant explosion is the company that owns it.
---
The primary goal for anyone injured in an industrial explosion is to bring the responsible person or persons to account. Regrettably, the legal aspects of this call for justice are usually quite complicated due to the multiple potentially liable parties involved in these accidents. Also, the status of the plaintiff seeking to take action has a bearing on the options available for legal recourse.  
A reputable plant explosion attorney will have years of experience in handling plant explosions and other toxic tort claims. This makes it possible for them to help their clients hold the defendants liable and recover financial compensation for the damages arising from the accident. So, how do you know who to sue for your plant explosion injuries? In other words, who is liable? Here are some potentially responsible parties.
The Plant Owner 
The most obvious suspect for liability in an industrial plant explosion is the company that owns it. Chemical manipulation and production is a fast-growing industry and is currently the subject of a lot of public scrutiny. Consequently, there are multiple regulations and rules in place regarding plant operation, maintenance, and safety. Failure to comply with any one of them could lead to disastrous consequences.
Industrial plants carry vast amounts of liability insurance for those who seek financial redress for their injuries. Liability insurance covers the negligent actions of third parties as well as any employees who caused or contributed to an industrial explosion. Since the company owns the property on which the plant sits, it is liable for any injuries that occur on its premises.  
The Equipment Manufacturer
Another primary component in a lot of industrial plant explosions is equipment defect, malfunction, or failure. This segues us to the topic of product liability, the legal tenet that a company has a duty of care to hold the design and manufacture of its equipment to the highest standard of safety and is liable for any defective products. If someone is injured due to a defect in the marketing, production, or design of a piece of industrial equipment, they are eligible to sue for damages. There are three types of manufacturing defects. They are:
Design Defects: A design defect is a flaw in the initial design of a product even before it is manufactured. A design defect, by nature,  makes the piece of equipment inherently dangerous to use no matter how conscientiously it is operated or manufactured. Due to the extremely specialized jobs for which industrial plant equipment is used, it has to be as safe as possible. Some industrial equipment carries an innate risk of injury in simply fulfilling its purpose, like a tower reactor, which gets heated to exceptionally high temperatures so it can easily liquefy raw materials so they can be combined. A design defect can be very dangerous because it renders any product it manufactures inherently defective.
Manufacturing Defects: A manufacturing defect occurs during production and is usually the result of inferior quality materials or substandard craftsmanship. Manufacturing defects can cause tools and machinery to malfunction, impacting the chemical process and potentially causing a plant explosion or chemical leak. Equipment manufacturers are liable for any shortcomings or mistakes made by their workers during the manufacturing process that later lead to injury to consumers, including plant workers and even local residents.
Marketing Defects: These defects are more commonly known as failure-to-warn defects. They can cause or contribute to an industrial accident if the employees operating the equipment have not been properly instructed on its safe usage. Manufacturers have to supply warnings and instructions concerning the prevention of any possible accidents when using their products. If they fail to provide these, neither the employees nor their supervisors have any way of knowing how to properly and safely operate the equipment.  
Other Potentially Liable Parties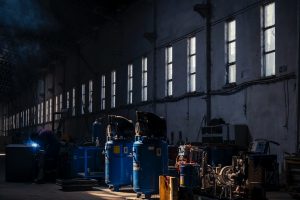 After an industrial explosion accident, multiple parties could be held wholly or partially liable. Some other parties that could be liable for an industrial plant explosion are:  
Plant manager: Due to the high degree of danger in an industrial work setting, the Occupational Safety and Health Administration, has stated that employers must take reasonable precautions to ensure their employees have a safe working environment. The onus of this responsibility falls on plant managers, who are required to offer appropriate worker training, provide employees with machines and equipment that have been properly maintained, furnish employees with suitable working safety equipment, and restrict access to hazardous chemicals. Managers who cut corners to save time or money can be liable for any explosions and the damages they cause. 
Company in charge of daily operations: In most industrial settings, a company is hired to oversee the plant's day-to-day operations. If the operating company fails to uphold its duty of care by not protecting workers from harm, it could be held responsible for any injuries.
Third-party contractor: Both commercial and industrial workplaces have a significant number of third-party contractors on the job site. Consider, for instance, a company that was hired to perform all of the electrical work at a construction site. If their work is subpar and leads to an explosion, the contractor can be held accountable. 
Other associated parties: Based on the facts of your injury claim, there may be other parties that share in liability. For example, imagine a situation where a gas company is hired to mark the locations of all gas lines on a property to make sure they are not struck by workers. Now let's say that the gas company employee failed to mark one of the lines which was later struck by a worker causing a major explosion. The gas company would almost certainly be assigned a portion of liability for the incident.  
Pursuing Financial Compensation After a Plant Explosion
If you were injured in an industrial explosion that was caused by someone else's negligence, you may be entitled to compensation via your state's workers' compensation program. This lets injured workers collect some restitution for a workplace accident while protecting their employer from a personal injury lawsuit. Remuneration is usually a percentage of your average wage and coverage of all medical bills arising from your injuries.
If an outside party was liable for your accident, you might be able to pursue both a third-party claim and workers' compensation. This could be a viable option if an equipment manufacturer, third-party contractor, or other outside company is responsible for the plant explosion. This will allow you to seek much higher damages, including full earnings, property damages, disfigurement, and pain and suffering.