Robert Trump claims his niece, Mary, is forbidden from talking about family affairs due to a nondisclosure agreement she signed in 2001.
---
The brother of President Donald Trump is desperately trying to block the publication of a tell-all book written by the commander-in-chief's own niece.
NBC News reports that the book, written by Mary Trump, is scheduled for release at the end of July.
Mary Trump, the daughter of the president's brother, Fred Jr., ascribes the commander-in-chief's abrasive personality and general lack of empathy to his upbringing. The book is, in fact, entitled "Too Much and Never Enough: How My Family Created the World's Most Dangerous Man," and bills itself as an "authoritative portrait of Donald J. Trump and the toxic family that made him."
According to NBC, another of President Trump's brothers—in this case, Robert—has filed at least two lawsuits seeking to stop the book from hitting stores next month.
Robert Trump's lawsuit, says NBC News, was filed in Queens County Surrogate Court, the same court where the estate of Trump family patriarch Fred Trump, Sr., was settled in 1999. In his complaint, Robert Trump accused Mary of violating the terms of a confidentiality agreement she had signed, which forbid her from exposing any intimate, potentially scandalous details about the family.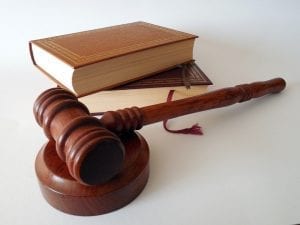 But Judge Peter Kelly firmly rejected Robert Trump's claims, stating that although his court settled the Trump estate, it will not handle a dispute on book publishing.
"Regardless of the outcome of this matter, the administration of this estate will not be impacted one iota," Kelly wrote.
Mary's attorney, Theodore Boutrous, praised the court's decision in a statement.
"The court has promptly and correctly held that it lacks jurisdiction to grant the Trump family's baseless request to suppress a book of utmost public importance and concern," Boutrous said. "Democracy thrives on the free exchange of ideas, and neither this court nor any other has authority to violate the Constitution by imposing a prior restrain on core political speech."
However, Robert Trump was not deterred by the court's decision. The Hill notes that the president's brother filed a second lawsuit in Dutchess County Supreme Court. Similar to the Queens County case, Robert Trump claims that his niece had signed a nondisclosure agreement in 2001.
The agreement, says the lawsuit, was one end-result of a legal battle over Fred Trump, Sr.'s will; it prohibits several members of the family from writing about their relationships with one another.
An attorney for the president, Charles Harder, told CNBC that Mary Trump is solely seeking profit.
"Almost 20 years ago, several Trump family members, including Robert and Mary, settled a legal dispute," Harder said. "It included an agreement to never publish any books about their family relationships. All five agreed that any breach would be enjoined by a court."
"Mary Trump reaped the awards of the agreement for 20 years, and now seeks to breach the agreement by cashing in on a 'tell-all' book," Harder said, adding that Robert Trump's complaint should not be construed as an attempt at government censorship. "The enforcement of voluntary contracts is a pillar of our legal system. This private dispute has nothing to do with the First Amendment.
President Trump, too, has taken the same stance as his brother, claiming that Mary is "not allowed" to write him about him or his upbringing.
CNBC and NBC News both say that Mary Trump's book is expected to reveal Mary as the primary source for a series of New York Times articles about President Trump's finances. The series, adds CNBC, won the Times a Pulitzer Prize.
Sources
New York court tosses lawsuit over Trump family tell-all book
Trump brother files new lawsuit seeking to block niece Mary Trump's tell-all book about family
Trump's brother files new lawsuit to block niece's book
Trump's brother tries again to block niece's tell-all book after failed attempt