A new trend has emerged. Drug companies are filing motions for gag orders and sanctions against plaintiffs amid ongoing litigation.
---
In December, Mylan counsel from Wilson Sonsini Goodrich & Rosati and attorneys from a slew of other companies representing generic drug makers filed a motion claiming that an assistant state attorney general (AG) from Connecticut and Louisiana's state AG gave media interviews in which they inappropriately discussed ongoing investigations.  The drug companies contended that the state officials violated ethical standards and breached a duty under Connecticut law to maintain the confidentiality of information, subsequently asking U.S. District Judge Cynthia Rufe of Philadelphia, appointed by former president George W. Bush, to issue a gag order on for improper disclosures.  The order should apply not only to the two AGs but on all of the AGs in the case.
This month, defense attorneys for opioid makers and distributors filed a motion asking U.S. District Judge Dan Polster of Cleveland to block plaintiffs' attorneys in their case from speaking publicly about ongoing litigation and evidence presented.  That motion was filed after a "60 Minutes" report in which Ohio AG and now governor-elect Mike DeWine was interviewed.
Defendants claimed DeWine and his fellow plaintiffs' attorneys breached ethics rules by answering questions regarding the litigation over the role pharmaceutical companies in the epidemic.  The motion noted DeWine told Whitaker he had seen a set of data from the federal Automated Reports and Consolidated Ordering System (ARCOS).  He said he wasn't allowed to discuss the details of the data, but it was "shocking," and distributors should have known something was not right.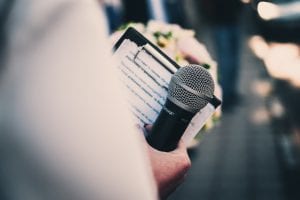 Judge Rufe summarily rejected the defendants' motion in a one-page court order in the generics case.  The judge said a gag order would not be appropriate "when no trial is imminent and there does not appear to be a substantial likelihood that comments by plaintiffs' lawyers would prejudice the case."  She also said there is "no reason to admonish the AGs and private plaintiffs' lawyers to comply with ethics rules and her orders."
The order continues, "The states understand that the defendants do not want the public to learn the full extent of their unlawful conduct and the allegations made by the states.  But that does not justify imposing a gag order on public officials; particularly where certain officials have an obligation under their state's law to inform the public about the status of their ongoing investigations and cases."
In the DeWine case, Polster said he watched the segment that ran on the CBS and read the transcript.  He refused to address or issue any orders for sanctions, as attorneys for several drug companies requested, but he said the attorneys need to watch what they say publicly about the litigation.  The judge stated, "I don't want to see anything more like I saw on 60 Minutes, and I don't want to see anything on the Defense side either.  So, everyone's going to be behaving professionally.  That goes for the lawyers or the clients…And no one is to be discussing, even in general terms, settlement discussions, other than to say everyone's working hard, which is what all I've been saying."
As the contentious litigation against drug makers continues, more motions and requests for sanctions are anticipated.
Sources:
Pharma's latest tactic in megacases: Try to gag AGs, plaintiffs' lawyers