China is a major source of drug trafficking into the U.S., according to federal officials.
---
According to the Food and Drug Administration (FDA), the agency inspected two international mail centers to determine whether illicit fentanyl and other opioids, as well as illegal vaping products, were being brought into the U.S.  FDA chief Ned Sharpless visited the facilities at John F. Kennedy International Airport in Jamaica, New York, and Secaucus, New Jersey in an effort to seize any drugs being shipped.  Agents have warned that international facilities are primary targets for drug traffickers because package-checking resources are insufficient compared to the large number of packages transported.
"It is truly remarkable to have witnessed the stunning volume of parcels that come into a single international mail facility on any given day," Sharpless said. "Many of these parcels lack any package labeling, contain products labeled as dietary supplements with hidden drug ingredients, or contain drug products or medical devices that are unapproved or counterfeit."  He added, "I commend the hard-working men and women who play a pivotal role working around the country in support of our essential mission to protect the health of the American people."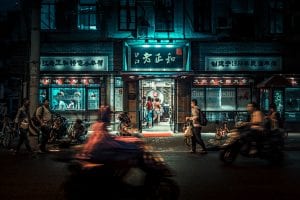 Officials have said China is the main source of illicit fentanyl trafficked into the U.S. through mail centers.  Just this month, three Chinese nationals were caught working alongside a former deputy sheriff in Pennsylvania in an international mail order drug operation linked to five U.S. overdose deaths.  According to William M. McSwain, U.S. Attorney for the Eastern District of Pennsylvania, they ran websites in China offering the powerful drug, and these were shipped to a storage facility in Pennsylvania rented by former officer David Landis.
"Make no mistake, China is waging an undeclared war on our country and our American way of life, with deadly drugs serving as its weapon of choice," said Mr. McSwain. "China is supplying the United States with the most potent and deadly fentanyl and other synthetic opioids on the market today."
Sharpless said FDA authorities are working with the U.S. Customs and Border Protection to identify any illegal vaping products as well.
Multiple states have reported hundreds of cases of vaping-related respiratory illnesses in the past few months according to the Centers for Disease Control and Prevention (CDC).  The agency released a statement saying, "all of the cases occurred in people who acknowledged vaping either nicotine or tetrahydrocannabinol, known as THC, the high-inducing chemical in marijuana."  Officials added, "It does not appear at this time that a contagious infectious disease is behind the issue, nor is one device or product responsible."  However, since federal and state officials still do not know what is causing the flare-ups, they continue to investigate, and more and more states are banning e-cigarettes and certain vape flavors.
The issue is widespread, and recently, Milwaukee, Wisconsin, police uncovered $1 million in cash, more than 10,000 THC vaping cartidges, and 18 pounds of marijuana just in one couple's home.  The reported 34-four-year-old Govanny "Gio" Molina and 30-year-old Amanda Ware both face charges "maintaining a drug trafficking place and possession with intent to distribute THC."
Sources:
Acting FDA chief inspects two international mail facilities for illicit vaping and opioid products
Three Chinese Nationals Charged With Fentanyl Trafficking
Respiratory Illnesses from Vaping are Widespread, Warns CDC
Nearly $1M in cash seized in bust of counterfeit THC vape operation: Milwaukee police