Missouri had earlier passed a law allowing private citizens to file five-figure claims against anyone who tried to infringe upon their Second Amendment rights.
---
A federal judge has struck down a controversial Missouri state law that would penalize local law enforcement from enforcing United States gun-control legislation.
According to National Public Radio, U.S. District Judge Brian C. Wimes found that the state's so-called "Second Amendment Preservation Act," or SAPA, is unconstitutional and in violation of the widely-accepted legal standard that federal law should always supersede contradictory state-level laws.
In his ruling, Wimes said that Missouri's statute was an "unconstitutional [violation of] federal law and is designed to be just that."
The law, writes N.P.R., allowed private citizens to file lawsuits for up to $50,000 if they believed that the enforcement of federal firearm laws infringed on their Second Amendment rights to keep and bear arms.
"SAPA exposes citizens to greater harm by interfering with the Federal Government's ability to enforce lawfully enacted firearm regulations designed by Congress for the purpose of protecting citizens with the limits of the Constitution," Wimes wrote in his 24-page opinion.
National Public Radio reports that the United States Department of Justice filed its lawsuit last year to prevent Missouri from enforcing the law, which was passed by the state's Republican-dominated legislature.
Justice Department attorneys alleged that Missouri's law effectively hindered cooperation between federal, state, and local law enforcement.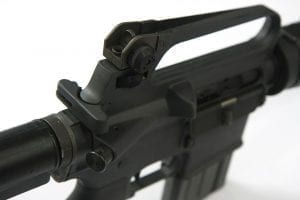 In a brief submitted to the district court, the Department of Justice cited examples of state-level police officers being forced to leave joint task forces because of conflicting state and federal laws.
Former Missouri Attorney General Eric Schmitt, who was elected to the United States Senate in 2022, characterized the Justice Department's lawsuit as "partisan" litigation intended to "put politics ahead of public safety."
"The Biden Department of Justice has now filed yet another partisan lawsuit that seeks to attack Missourians' Second Amendment rights," Schmitt said at the time.
Andrew Bailey, who has since taken Schmitt's position as state attorney general, said that his office plans to file an appeal.
"The Second Amendment is what makes the rest of the amendments possible. IF the state legislature wants to expand upon the foundational rights codified in the Second Amendment, they have the authority to do that," Bailey said. "But SAPA is also about the Tenth Amendment (that leaves some powers to the states). It's about federalism and individual liberty."
According to National Public Radio, SAPA was not popular with everyone in Missouri: St. Louis, St. Louis County, and Jackson County all filed their own lawsuits intended to prevent the law from taking effect.
"The Second Amendment Preservation Act belongs in the dustbin of history, remembered only as a uniquely awful and harmful piece of legislation," Kansas City Mayor Quinton Lucas wrote in a tweet published earlier this week.
The City of Arnold also filed its own claim against the state, which received support from more than 60 Missouri police chiefs who said that the law needed clarification so that local law enforcement could know which federal agencies they can and cannot work with.
Sources
Missouri banned police from enforcing federal gun laws. A judge ruled that's unconstitutional