New Jersey first responders will now carry buprenorphine to manage opioid withdrawal symptoms.
---
New Jersey's health commissioner has authorized paramedic teams to administer the drug buprenorphine to patients after reviving them from an opioid overdose.  Paramedics would offer patients the drug, which is sold most commonly under the brand name Suboxone, after their overdose had been reversed using naloxone.  This is the first time in the United States the protocol is being rolled out, and the model hold a two-fold purpose to treat withdrawal symptoms associated with naloxone and aid in the immediate transition of the patient into a more sustainable treatment program.
The decision was made on the heels of another first in which the state opted to give patients visiting 174 participating pharmacies the opportunities to pick up Naloxone (Narcan) nasal spray free of charge and without a prescription from a physician earlier this month.
"Buprenorphine binds to the same brain receptors as opioids used for pain and would provide a softer landing" for patients recovering from overdose, said Dr. Dan Ciccarone, a University of California, San Francisco, professor, adding, "This comes out of left field, and it's very interesting.  It's a potentially brilliant idea."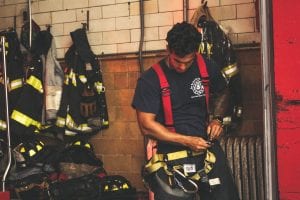 Many states throughout the country have been pushing to institute aggressive and innovative efforts to reduce drug overdose deaths amid the crippling opioid crisis, and buprenorphine is at the forefront of these efforts.  It is one of only three drugs approved for opioid treatment and has been proven to be effective in reducing overdose deaths and illegal drug use.  It is still regulated, however, as a Schedule III substance by the U.S. Drug Enforcement Administration (DEA).
Under current law, medical personnel licensed to prescribe controlled substances must undergo a training ranging from eight to 24 hours to prescribe buprenorphine.
"Here we are basically suggesting that we're going to treat the person in as well-meaning and patient-centric a manner as possible," Ciccarone said. "And that means naloxone plus a softer landing with buprenorphine."
Many emergency physicians have already begun to prescribe buprenorphine after overdose reversal, but New Jersey's decision to allow paramedics to do the same is the first of its kind.  New Jersey's 1,900 first responders will need to obtain permission from the emergency physician who has a DEA waiver to prescribe buprenorphine and is overseeing their unit before administering the drug after an overdose incident.  Only paramedics in the state's 21 mobile intensive-care units will be allowed to carry Suboxone or its generic.
"Buprenorphine is a critical medication that doesn't just bring folks into recovery – it can also dampen the devastating effects of opioid withdrawal," Dr. Shereef Elnahal, New Jersey's health commissioner, said.  "That's why equipping our EMS professionals with this drug is so important."
However, the state's new approach has raised some questions around patient consent.
"Obtaining permission from individuals experiencing withdrawal pain to administer buprenorphine could prove challenging," said James Langabeer, a researcher at the University of Texas Health Science Center at Houston, Texas. "These are not conversations that are easy to have for anybody, and especially for a paramedic," Langabeer said, noting the short window between responding to a 911 call and a hospital drop-off. "There's a whole set of decision-making processes that the paramedic will have to integrate into their protocol."  He added that the decision needs to also be definitively linked to long-term treatment.  "It's a really positive first step," he said, "But the next step is the next day.  They've got to be linked to continuing treatment."
Sources:
In a nationwide first, New Jersey authorizes paramedics to start addiction treatment at the scene of an overdose
New Jersey to Launch One-Day Program to Distribute Free Naloxone at Pharmacies