Florida state officials had earlier sought a temporary restraining order to prevent the Biden administration from rescinding public health-related restrictions on alternative parole opportunities for undocumented immigrants.
---
A Florida-based federal court has issued a temporary restraining order against the Biden administration, blocking a planned move to relax coronavirus-related immigration policies.
According to CBS News, Florida Attorney General Ashley Moody petitioned the court to grant a restraining order on Wednesday.
The Biden administration had already issued its order to rescind Title 42 restrictions.
The order, writes CBS News, was expected to take effect Thursday night, and could have resulted in a large-scale surge in migrants entering the United States.
In his ruling, U.S. District Court Judge T. Kent Wetherell wrote that the "challenged policy appears to be materially indistinguishable" from an earlier Biden administration policy that the court had earlier found violated federal law.
The earlier policy, notes CBS News, was known as the "Parole Plus Alternatives to Detention," or "Parole+ATD."
Wetherell said that both policies were potentially problematic, insofar as they did not address how undocumented migrants would be located and held liable for immigration violations upon receiving parole.
"One of the fundamental flaws with the Parole+ATD policy is that it did not contemplate that the alien would be returned to custody once the purposes of parole had been served, as required by the plain language of [federal law]," Wetherell wrote in his order.
"The same appears to be true of the challenged policy, which is primarily intended to relieve overcrowding at border patrol facilities by more quickly releasing aliens into the country for further processing when (or if) they report to an ICE facility," the judge wrote. "The policy does not contemplate that the alien would be taken into custody at the ICE facility and, as was the case with the Parole+ATD policy, aliens released under the challenged policy would not have an immigration 'case' that can 'continue to be dealt with' after the purposes of the parole have been served."
Wetherell specified that his temporary restraining order would last for 14 days. He also scheduled an additional hearing for May 19th, ostensibly to hear state arguments for a preliminary restraining order.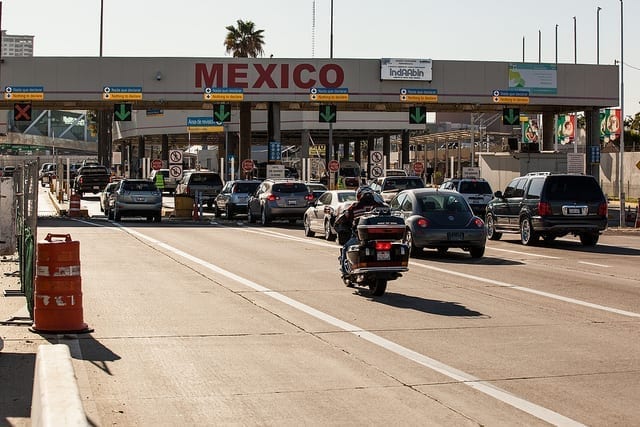 A spokesperson for U.S. Customs and Border Protection said that the agency will comply with the court's directive while it assesses its "next steps."
"This is a harmful ruling that will result in unsafe overcrowding at CBP facilities and undercut our ability to efficiently process and remove migrants, and risks creating dangerous conditions for border patrol agents and migrants," Customs and Border Protection said in a statement. "The fact remains that when overcrowding has occurred in Border Patrol facilities, Republican and Democratic administrations alike have used this parole authority to protect the safety and security of migrants and the workforce."
While the Biden administration had argued that any revocation or stay against its revised immigration policies could irreparably harm the nation's interests, Moody's office argued that the White House violated the federal Administrative Procedure Act by making an "arbitrary and capricious" decision with potentially far-reaching consequences.
"The new parole policy is arbitrary and capricious because it is a pretextual attempt to circumvent this court's prior ruling," Moody's office wrote in its request for a temporary restraining order. "Instead of approaching the problem in good faith, such as by seeking a stay of this court's ruling, [the Department of Homeland Security] slapped a new label on the same Parole+ATD policy that this court vacated and went about its business."
"This," Florida wrote, "is the very definition of 'capricious'."
Sources
Florida federal judge blocks Biden immigration policy
Florida federal judge temporarily blocks Biden's migrant parole policy