The 72-year-old janitor's absence was never investigated by the Orange County Courthouse's contracted security company.
---
A 72-year-old janitor has filed a lawsuit against a Florida security company, claiming that she spent an entire weekend trapped inside a tiny holding cell in an Orange County courthouse.
According to The Miami Herald, the lawsuit was filed on behalf of Libia Vargas De Dinas, a contracted janitor.
De Dinas, writes the Herald, was working a night shift at the Orange County Courthouse on Friday, January 27.
The 72-year-old woman started her shift at 5p.m.
While cleaning a holding cell inside the facility, she was inadvertently locked inside—where she remained from Friday evening until 7.a.m. the following Monday.
De Dinas, who is "insulin dependent," did not have access to food or medication.
The lawsuit notes that Allied Universal Technology Services was in charge of security at the courthouse on Friday. The company's employees were broadly tasked with monitoring and checking in members of the courthouse cleaning crew.
The Miami Herald reports that, when cleaning staff check in to the Orange County Courthouse, they must provide their driver's license to security personnel before being given the keys to different parts of the building.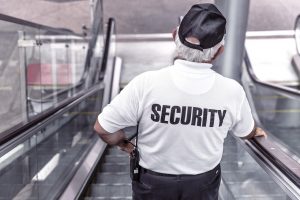 Attorneys for De Dinas say that their client complied with Allied Universal's rules, turning over her driver's license at the beginning of her shift.
However, while cleaning a holding cell on the courthouse's 23rd floor, the cell door shut behind her.
De Dinas was unable to open the door.
Since she had left her cell phone on a cleaning cart stationed outside, she could not call for help.
Later that same evening, the remaining members of the cleaning crew checked out and returned their keys to Allied Universal staff.
While De Dinas's driving license was never claimed, security employees did not investigate or go looking for the 72-year-old woman—leaving her alone inside the holding cell for the entire weekend.
"It wasn't until Monday morning, January 30, 2023 that a sheriff's deputy heard [her] cries for help," the lawsuit states. "He unlocked the door and freed [De Dinas] from the holding cell."
A spokesperson for Allied Universal Technology Services told The Miami Herald that it is actively investigating the incident.
"At the Orange County Courthouse, Allied Universal security professionals did not have access to certain designated areas, including where the incident occurred," the company said in a statement. "We provide security services that include access control, screening, patrols, monitoring and reporting. After the unfortunate incident, Orange County has requested for us to provide security in more areas, including where the incident occurred."
However, attorneys for De Dinas said that the incident could have been avoided.
In the lawsuit, De Dinas and her lawyers allege that Allied Universal Technology Services negligently failed to hire qualified employees, maintain proper policies, and enact safeguards to ensure general safety.
As a result of Allied Universal's alleged negligence, De Dinas suffered "disability, disfigurement, mental anguish, loss of capacity for the enjoyment of life, expense of hospitalization, medical and nursing care and treatment, lost wages," and other damages.
Bill McAfee, one of De Dinas's attorneys, told the Herald that there is no excuse for Allied Universal's alleged misconduct.
"To have this happen to her, it's really just unforgiveable," McAfee said.
Sources
Trapped janitor's calls for help unheard for days after being locked in cell, lawsuit says
Woman files lawsuit after getting trapped in holding cell at Orange County courthouse