The court found that the plaintiffs lacked standing to file the complaint, insofar as they failed to demonstrate that Trump seeking a second term in office could constitute cognizable injury.
---
A South Florida-based federal judge has dismissed a lawsuit challenging former President Donald Trump's eligibility to seek a second term as commander-in-chief.
According to the South Florida Sun-Sentinel, U.S. District Judge Robin L. Rosenberg found that plaintiff Lawrence Caplan failed to establish the requisite standing needed to file a complaint.
"Plaintiffs allege that they have standing because Plaintiff Caplan has actively participated in the last twelve Presidential elections, voted for both Republicans and Democrats, is a Florida resident and United States citizen, is an attorney and member of various courts, and has never been sanctioned," Rosenberg wrote.
"Plaintiffs allege they will suffer injury if Defendant is allowed to run for President and prevail when he could be disqualified or removed from office," she continued. "However, an individual citizen does not have standing to challenge whether another individual is qualified to hold public office."
"Plaintiffs in this case similarly lack standing and, thus, this court lacks jurisdiction," she wrote. "Accordingly, the court exercises its discretion under the Declaratory Judgment Act, along with its obligation to examine its own jurisdiction, to dismiss this case."
Caplan's lawsuit, notes the Sun-Sentinel, was dismissed exactly one week after it was filed.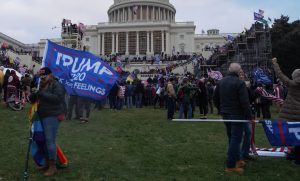 Caplan has since indicated that he has only had the chance to look at Rosenberg's opinion "very quickly," but had anticipated that he might struggle to establish legal standing.
"As far as her dismissal, I'm not surprised at all because I always thought that standing would be a preeminent issue," Caplan said, adding that he does not plan to appeal the ruling because he does not believe that the complaint is going to go anywhere."
In his complaint, Caplan argued that the 14th Amendment to the U.S. Constitution—enacted after the end of the Civil War, with the intent to prevent former Confederate officials from holding public office—could be applied to Trump, due to his alleged involvement in the January 6th riots and potential attempts at election interference.
Free Speech for People, a not-for-profit civil rights organizations, has also argued, on similar grounds, that Trump cannot serve as president.
However, like Caplan, Free Speech for People said it is not surprising that Rosenberg's court lacked jurisdiction over the claim.
For its part, the organization said that it plans to continue challenging Trump's eligibility in "multiple states," using well-established challenge procedures.
"This ruling, based on the limited jurisdiction over the federal courts, has no impact whatsoever on Trump's eligibility for office or Free Speech for People's planned challenges under the state candidate eligibility challenge processes that are designed for this purpose," it said.
Sources
Federal judge dismisses Florida lawsuit seeking to have Trump declared ineligible for presidency
Why a Florida judge dismissed a case trying to keep Trump off the ballot