Closed for profit college took students' money, but was not accredited.
---
Jacqueline Franklin, Jami Reichardt, Bridgette Collins, and about fourteen other women were nearing their graduation date at the Sanford Brown Institute in Trevose in 2010, and they began the much-anticipated search for a job.  Then, they received some unsettling information: Their for-profit school wasn't accredited for its ultrasound program even though they had each borrowed tens of thousands of dollars from the federal government to attend.  Nevertheless, administrators at the now-closed Bucks County school told the students not to worry.
The Sanford Brown graduates could work as uncredentialed techs for a year and then take their board tests.  But the women were not so sure.  They wondered how they could get ultrasound jobs in the first place without passing their boards.
Reichardt borrowed $35,000 and couldn't find a position when she began her search.  She accepted "man jobs, because let's be honest, they pay better for physical labor than, you know, working retail," she said. "I did security for private events, clubs, celebrity details. You name it, I did it."  She even subcontracted for a company, working on electric and gas meters. "I did both of them together," Reichardt said. "I'd be trying to not get electrocuted during the day and not getting punched in the face at night."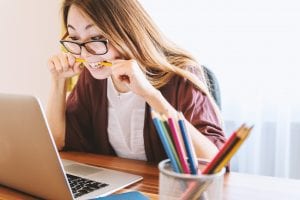 Jacqueline Franklin owes $57,000 and it wasn't until it was far too late that she learned broader Trevose campus was accredited so students could get federal loans.  However, its ultrasound program was not. Franklin said she didn't learn this "until I went out to get a job."
"They said I would make $55 an hour," she added, noting that nearly ten years later she is stuck at $35 an hour with a mobile ultrasound service driving to prisons and nursing homes.  She earned $25 an hour for years prior to her current position.
Studies indicate poor earning-potential outcomes for students of for-profit schools, with data suggesting that they "struggle with debt, delay life plans, and even take medication for anxiety."
Students in for-profit schools owe the Department of Education about $245 billion in loans, which is just part of the U.S.'s $1.5 trillion student debt crisis.  Experts in the field of academic have said the issue has been particularly bad in health-care fields and for women, including those who pursued certificates to be medical assistants, massage therapists, dental assistants, pharmacy technicians, medical insurance coders, and ultrasound techs.
When asked back in March at a Senate hearing how many students of for-profit schools had been granted loan forgiveness, Education Secretary Betsy DeVos and her staff could not provide the requested information.  Then, in April, press secretary Liz Hill said the department had discharged $158 million in loans for 15,000 borrowers from December through February.  There are still 150,000 students seeking loan relief. "Pending litigation has slowed down the Department's ability to process applications and provide relief to additional borrowers," Hill said.
Robert Kelchen, an assistant professor at Seton Hall University, said the government expects to repay their federal student loans in ten years.  He added that across the nation, 28 percent of Sanford Brown Institute students had repaid some of their student loan principal three years after graduating. The percentage rose to only 40 percent after seven years, he confirmed.  Government data show that one-third of students who have defaulted on federal student loans attended for-profit schools, while they represented only about one-tenth of enrollment in 2017.
Sources:
These students borrowed $35K plus for an unaccredited program that closed. Years later, their debts remain
Former students of Sanford-Brown College in Pennsylvania to get relief from debts