The lawsuit alleges that Carlson and his producers regularly made derogatory comments about women and Jewish people.
---
A former Fox News booking manager has filed a lawsuit against Tucker Carlson, claiming that the conservative host subjected employees to an exceedingly hostile and discriminatory work environment.
According to The New York Times, the complaint was filed by Abby Grossberg, Carlson's former head of booking.
Grossberg, who was fired by Fox News shortly after she filed two lawsuits against the company in March, was hired by Carlson's team in 2022. She had previously worked as a senior producer for Maria Bartiromo, another controversial Fox News personality.
In her complaint, Grossberg alleges that Carlson and other male producers regularly made antisemitic jokes and used "vulgar" terms to describe their female colleagues.
The Daily Dot writes that Grossberg's recent filings point to other, controversial comments Carlson has made in the past.
In one incident, Carlson defended an arranged marriage between a 27-year-old and a 16-year-old, saying such arrangements cannot—and should not—be compared to sexual assault, because "the rapist in this case has made a lifelong commitment to live and take care of the person."
"I am not defending underage marriage at all—I just don't think it's the same thing exactly as pulling a child from a bus stop and sexually assaulting that child," Carlson said in 2009. "Arranging a marriage between a 16-year-old and a 27-year-old is not the same as pulling a stranger off the street and raping her."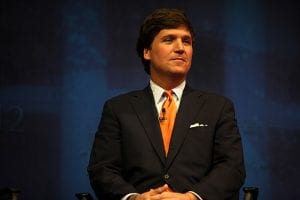 Carlson has also reportedly called sex workers "slutty and pathetic," and implied that many women are "extremely primitive, they're basic, they're not that hard to understand."
Grossberg claims that, on her first working with Carlson, she found the host's office decorated with pictures of U.S. Rep. Nancy Pelosi (D-CA) "wearing a plunging swimsuit."
She was also once summoned to an executive producer's office to answer questions about whether Bartiromo was possibly having a sexual relationship with Republican Speaker of the House Kevin McCarthy.
Grossberg, who has also sued Fox News for allegedly coercing her into providing misleading deposition in a since-resolved defamation case filed by Dominion Voting Systems, says that Carlson and his producers emailed the rest of the staff to celebrate "Abby Day" to celebrate her inaccurate testimony.
Fox News, which is named as a defendant in the lawsuit, has disputed Grossberg's claims.
"We will continue to vigorously defend Fox against Ms. Grossberg's unmeritorious claims, which are riddled with false allegations against Fox and our employees," a spokesperson for the network said in a statement.
The New York Times notes that the lawsuit, filed in the Southern District of New York, lists defendants including Carlson, Fox News, the Fox Corporation, and several network executives and producers.
Tanvir Rahman, an attorney for Grossberg, told the Times that Carlson's recent departure from Fox News "is, in part, an admission of the systemic lying, bullying, and conspiracy mongering claimed by our client."
Rahman said that his legal team will depose Carlson and his subordinates "in the very near term."
Sources
'If it weren't my daughter, I would love that': Tucker Carlson's firing resurfaces old comments about 14-year-old girls
In a Lawsuit, Tucker Carlson Is Accused of Promoting a Hostile Work Environment
Tucker Carlson refuses to apologize for past comments about women, statutory rape