Jonas Kilpatrick, son of the former mayor of Detroit, Kwame Kilpatrick, posts a video on Facebook begging President Trump for his father's release.
---
The former mayor of Detroit, Kwame Kilpatrick, was unable to get his prison sentence reduced earlier this year when he asked for an early release.  Kilpatrick had been convicted of a number of felonies, including extortion, bribery, and racketeering and received a 28-year sentence in 2013.  He was also involved in a sexting scandal involving his chief of staff which caused Kilpatrick to resign from his post.
Now his son and youngest child, Jonas Jonas Kilpatrick, is pleading in a video to President Donald Trump to release his father.
"I've been without a father for almost seven years now.  I just graduated high school and he was not in attendance.  I move into college tomorrow and he will not be there to drop me off.  And these aren't the worst things to come of my father's absence," he explained in the video which he posted to a Facebook page titled FreeKwameProject.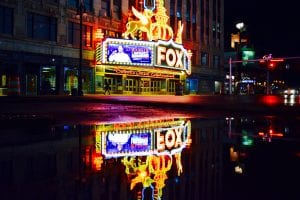 The Facebook page insists: "Contrary to widespread rumors, speculations, and innuendos, Kilpatrick' s case has nothing to do with any 'missing' or 'stolen' money, nor the bankruptcy of the city of Detroit.  Kilpatrick had no indictment counts nor convictions for embezzlement or misuse of public funds.  Kilpatrick was elected mayor of Detroit at 31 years old and made some mistakes, but none of them warranted a 28-year sentence."
In 2018, Kilpatrick wrote Trump a letter begging him to commute his sentence, stating his time behind bars has been, "[a]s you could imagine…the most painful, gut-wrenching, and transformational time, not only my life, but also in the lives of everyone that I hold dear; my parents, Carlita, my sons, sisters, nephews, niece, extended family, friends, and many others whom I've never met, but know through the shared experiences of being a Detroiter."
The letter continued:
"When I arrived in Federal Prison, I tenaciously pursued freedom.  I was in the law library daily.  I was doggedly determined to prove my innocence, to overturn my case, to get 'revenge' on the justice system.  I wanted to be free…I wanted people to know that I did not do what they said I did.  But the more I pressed, the more enslaved I became.
I was angry, bitter, and broken.  The pain and anguish I heard in the voices of my family, along with the emotional turbulence in my household, and the anxiety, fear, and hopelessness growing in the souls of my three sons, quickly became far too much to bear…
Yes, I have been punished severely.  I have been chained like a wild animal, shacked around my ankles, waist and wrist, with a black box to keep my hands at my side many times.  I have spent more than 5-Months in Solitary Confinement at different periods in this journey because they wanted to do that to me.  I have experienced ridicule, scorn, and disrespect from prison staff that you couldn't imagine.
I have missed important moments in my sons lives; puberty, graduations, college entrance, basketball and football games, awards, and even the most important moments when they need their father's counsel, presence and love.  I destroyed my marriage, and the irreparable harm has cause great pain to Carlita and our sons as well."
At its conclusion, Kilpatrick asked for "an opportunity to fully participate in America."  However, he has not received a response to his plea for release.
Sources:
Kwame Kilpatrick's son to Trump: 'Please grant my father mercy'