In his complaint, the veteran Fox News reporter claims that he lost his job for suggesting that the network provide more realistic coverage of the January 6th riots and 2020 presidential elections.
---
A former Fox News report has filed a lawsuit against the conservative media outlet, claiming that it discriminated and retaliated against him after he raised concerns about "false coverage" of the 2020 U.S. presidential election.
According to The New York Times, the lawsuit was filed earlier this week on behalf of Jason Donner, who worked as a reporter and producer at Fox News for nearly 12 years.
In his complaint, Donner says that he was targeted by his superiors after repeatedly raising concerns about the network's coverage of the presidential election and subsequent riots outside the Capitol.
Donner, adds The New York Times, had covered congressional affairs since 2018. His attorneys allege that, after then-President Donald Trump began spreading rumors of election fraud, the work environment at Fox quickly turned toxic.
Journalists who wanted to "report truthfully," for instance, were suppressed—and, in some cases, threatened with retaliation.
Donner recalls that he was working inside the U.S. Capitol building when rioters breached the premises on January 6th. He hid in a booth with other journalists, yet found Fox News reporting that the attacks were "peaceful."
During the riot, Donner purportedly told his colleagues that he had observed tear gas inside the Capitol, as well as rioters storming congressional offices, going so far as to tell Fox that misleading reports were "gonna get us all killed."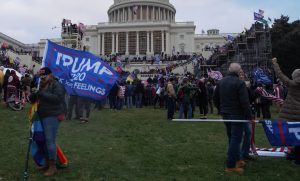 Afterward, Donner complained to his superiors about the "lack of support" received in the aftermath of the riots, using former host Tucker Carlson's false claims and bizarre conspiracy theories about January 6th as an example.
"Fox News has not supported its journalists since the January 6th attack on the Capitol," he said in his lawsuit. "I barely watch our programming or read our website anymore because it's hard to stomach these untruths being aired and written."
"It was demoralizing that Fox News would allow Carlson to gaslight the country with false information," Donner allegedly said.
In the immediate aftermath of the Capitol riots, Donner said that his immediate supervisor—NuNu Japardize—accused him of creating a "hostile work environment," telling Donner that he needed "more self-awareness when talking during Zoom meetings."
"It became evident to Donner that he was now being targeted for speaking out against the false reporting on the election and the January 6th insurrection, and for his political affiliation," the lawsuit alleges. "Fox News management was pushing a far-right-wing agenda in the news division, and Donner would not comply with their demands to inaccurately report on the election and former President Donald Trump."
Donner stated that, when he called in sick to work on September 26, 2022, he was fired two days later, with Fox explaining that he was "late for work and did not show up for work."
Donner says that he asked for examples as to when he may have missed work without notice, but was told that Fox did not "need any."
Now, Donner contends that this dismissal was a transparent pretext, and that he was fired for his "political views and affiliation […] and for his engaging in protected" free speech.
Donner is seeking an unspecified amount in compensatory and punitive damages, as well as an injunction against Fox News.
Sources
Fired Fox News Reporter Sues Network, Accusing It of Retaliation
Former Fox News reporter says in lawsuit he was fired after challenging Jan. 6 coverage
Former Fox News reporter was fired over opposition to the network's Jan. 6 coverage, lawsuit alleges