Georgia has officially joined the litigation against opioid manufacturers. The lawsuit comes after approximately 70 cities and counties in the state made similar allegations in their local courts. 
---
Georgia is the latest state to file a lawsuit against opioid drug makers accusing them of infiltrating the market with pain-relief products and profiting by getting users addicted.  Attorney General Chris Carr brought the lawsuit in Gwinnett County superior court, alleging pharmaceutical companies should be held accountable for more than 1,000 opioid overdose deaths in the state in 2017.   So far at least thirty states have filed similar lawsuits (this one included), claiming drug companies are to blame for the nationwide opioid crisis, because they encouraged doctors to over-prescribe, led patients to get addicted, and caused prescription drugs to be distributed illegally on the streets.
"The manufacturers and distributors of opioids have fueled this crisis," Carr said. "We needed to protect the interests of the people of Georgia, so we filed this lawsuit."
The lawsuit seeks to recover unspecified amounts of money to cover the costs the public incurred while treating opioid victims, including the cost of emergency care and treatment, substance abuse programs, law enforcement operations, and the like.  The state has asked a judge to stop companies from aggressively and deceitfully marketing their addictive drugs.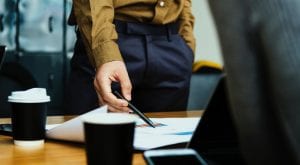 "Opioid distributors, in their pursuit of profit, failed to flag suspicious orders, which resulted in the drugs being sold for illegitimate and non-medical purposes," according to the lawsuit.  It goes on to suggest that drug companies knew of the addiction risks associated with opioid products but minimized these by "overstating their benefits to relieve pain."
"They were turning a blind eye as long as they were making a profit, knowing that these drugs were flooding the community," said Roderick Edmond, a doctor and attorney representing Fulton County and other local governments in similar cases against pharmaceutical companies. "They knew what they were doing. This was egregious. This was willful and intentional."
The lawsuit comes after approximately 70 cities and counties in Georgia made similar allegations in their local courts.  The defendants named include Purdue Pharma, Teva Pharmaceutical Industries, Endo Pharmaceuticals, Par Pharmaceutical, Qualitest Pharmaceuticals, Watson Pharmaceuticals, Actavis Pharma, AmerisourceBergen Drug Corporation, Cardinal Health, McKesson Corporation and J M Smith Corporation.
Purdue Pharma, the maker of the highly addictive drug, OxyContin, denied Georgia's allegations and said it's working to address the crisis.  It also pointed out that its actions were overseen and approved by the U.S. Food and Drug Administration (FDA).
"The state claims Purdue acted improperly by communicating with prescribers about scientific and medical information that FDA has expressly considered and continues to approve," Purdue Pharma said in a statement.  "We believe it is inappropriate for the state to substitute its judgment for the judgment of the regulatory, scientific and medical experts at FDA."
McKesson, a distributor of opioids, said, "We maintain — and continuously enhance — strong programs designed to detect and prevent opioid diversion within the pharmaceutical supply chain.  We only distribute controlled substances, including opioids, to DEA-registered and state-licensed pharmacies."
"Unlike other drug scourges, foreign drug cartels or kingpins did not cause the opioid crisis," according to the lawsuit. "Instead, this crisis was created in corporate boardrooms at some of the most powerful drug companies in the pharmaceutical industry."
Sources:
Georgia sues drug companies for allegedly causing opioid deaths
Georgia Attorney General files lawsuit against opioid manufacturers