Glitter on Baked Goods May Not Be Edible, FDA Warns
---
The U.S. Food and Drug Administration (FDA) is warning consumers to be aware that some decorative glitters and dusts promoted for use on baked goods and other foods may contain materials that are not edible and should not be ingested.  This is an important warning for parents with young children who may want to include these ingredients on birthday cakes, cupcakes, donuts, cake pops, and cookies.
"Many decorative glitters and dusts are sold online or in bakery supply stores under names such as luster dust, disco dust, twinkle dust, sparkle dust, highlighter, shimmer powder, pearl dust, and petal dust," the FDA says.  They are intended for use as edible products and are commonly included in food eaten by children.
According to the federal agency, there are easy steps a parent or another adult can take in order to determine what's edible and what's inedible.  The FDA advises consumers to carefully review the label of any decorative product being considered for use.  Manufacturers of edible dusts and glitters are required by law to include a list of ingredients on the labels of the food products they are marketing.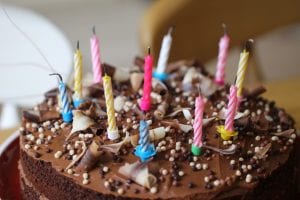 "Common ingredients in edible glitter or dust include sugar, acacia (gum arabic), maltodextrin, cornstarch, and color additives specifically approved for food use, including mica-based pearlescent pigments and FD&C colors such as FD&C Blue No. 1," the agency advises, adding, "Most edible glitters and dusts also state 'edible' on the label.  If the label simply says 'non-toxic' or 'for decorative purposes only' and does not include an ingredients list, you should not use the product directly on foods."
This is an indication that the products contain potentially harmful ingredients, particularly if consumed in high quantities.  Any decorative items that are not intended to be consumed should be removed prior to serving the food.  The agency also warns that bakeries may sell products with glitters and dusts that are not intended to be eaten.  "Talk to your bakery about the types of decorative products they use in their baked goods," the FDA advises, and ask whether all of the ingredients on the baked goods are safe to ingest.
"When in doubt, ask to see the labels of the decorative products to ensure they are edible.  And be informed about the glitter and dust products sold on the Internet.  Ask the seller to provide ingredient information from the manufacturer before you buy," says the agency.
"Non-toxic or 'food contact' glitter, which is often used on cakes, is technically safe to consume in small quantities, but that doesn't mean you should be using it as an everyday garnish," experts warn.  This is often the same glitter that is used in craft projects and can be made of plastic.  It will normally be labeled as "display only" with fine print that it should be removed.  However, sometimes it is difficult to remove the plastic particles because they are attached to whipped cream or frosting.  It is always best to double check the labels included and ask about product safety whenever possible.
"Non-toxic glitter may not kill you, but don't eat it," says Dr. Zhaoping Li, professor of medicine and chief of the Division of Clinical Nutrition at UCLA. "At least not regularly or large quantities."
Sources:
To Eat or Not to Eat: Decorative Products on Foods Can Be Unsafe