Some homeless residents say the city's clean-up notices are so short they've returned home to find all their possessions gone or destroyed.
---
A handful of homeless Americans are suing Los Angeles, challenging the city's longstanding policy of seizing and destroying property during encampment sweeps.
The federal lawsuit, writes The L.A. Times, challenges a city ordinance that lets sanitation crews to throw out "bulky" items they find in the streets. Unfortunately, that rule's often been expanded to include the property of homeless people. Tents, lean-tos and possessions found inside them are frequently junked during law enforcement raids and enforcement sweeps.
The 59-page complaint—filed in U.S. District Court in Los Angeles—claims the ordinance is unconstitutional and violates the homeless' Fourth Amendment rights to be protected against unreasonable searches and seizures.
Supporting the homeless in the lawsuit are two activist groups, Ktown for All and the Association for Responsible and Equitable Public Spending.
While Los Angeles has spent billions providing aid and shelter for its large homeless population, the Times notes that the city's approach to enforcement has long been criticized. Progress is often set back. In 2007, L.A. passed a resolution that'd let people sleep overnight on city streets and in other public areas if they lack alternatives. And several months ago, the city reached a settlement cutting back on action against Skid Row residents.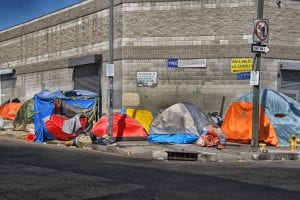 But conservative attorneys are pushing back. The Times says that attorney Theodore Olson, a right-wing hero, wants the Supreme Court to overturn "a ruling preventing authorities in nine Western states, including California, from prosecuting homeless people for sleeping in the street when shelters are inadequate."
This week's lawsuit intends to address a loophole in extant protections, which lets authorities remove "abandoned" possessions or long-term encampments.
In some cases, says Curbed.com, homeless people would be given less than 15 minutes to pack up and move to another area. Little advance warning was given, with some sidewalk-dwellers absent from the area. They'd return, sometimes hours later, to find all their possessions gone.
One woman involved in the lawsuit, Janet Garcia, said she constantly has to "start over" when raids take her by surprise.
"I have to buy my own supplies, and I always have to start over because they come and they sweep and they take everything from me," Garcia said. "I can't get out of the hole that I'm in because they keep putting me back at square one."
Outreach workers and city officials sometimes claim that clean-ups provide an opportunity to get homeless people off the streets and into shelters. But public response has been mixed.
"The city has announced some changes to the way the city responds to homeless encampments, but to date, there has been no movement by the Los Angeles City Council to address the constitutionality of 56.11," said the Legal Aid Foundation in a statement, referring to an ordinance limiting the size and number of items homeless people can store in 'public' places.
Sources
Homeless advocates challenge constitutionality of seizures
LA Sued For Allegedly Seizing Homeless Property During Sweeps
Lawsuit seeks to stop L.A. from seizing and discarding homeless people's belongings