Before making any purchases, I recommend that you investigate the payment process and various payment channels. ~ Tiffany Hafler, Marketing Coordinator, Blockchain Lawyer
---
In today's digital age, it's crucial to know if an online business is legitimate or not. To help you navigate this challenge, we've gathered seven tips from legal professionals, including a Principal Attorney and a Head of IP and Compliance. From checking reviews and reputation to verifying registration and licensing, these experts share their insights on how to determine the legitimacy of an online company.
Check Reviews and Reputation
Research Online Presence
Trust Intuition and Seek Advice
Conduct Comprehensive Research
Contact Company and Check Domain
Examine Payment Methods
Verify Registration and Licensing
---
Check Reviews and Reputation
To determine if an online company is legitimate, you can check its reviews and reputation. One way to check is with the BBB (Better Business Bureau). The Better Business Bureau maintains reviews and details of both offline and online companies. Check the reputation of the online business to verify its legitimacy.
If the company is not listed with the BBB, you can look through its social media presence for reviews and complaints. A legitimate company must have authentic third-party reviews from customers on trusted sites. You know it's legitimate when reviews are negative, but it is also a red flag when they are too good to be true.
You can also look through the followers' or reviewers' profiles to check if the profiles are empty or created just to review the company.
Lyle Solomon, Principal Attorney, Oak View Law Group
Research Online Presence
Go beyond the company's website and look into its online presence. Look for mentions of the company on social media, online forums, and review sites. Participate in discussions about the firm or its products/services to learn from other users. Consider both favorable and negative reviews, as well as the overall sentiment and whether any concerns are legitimate or prevalent.
Bruce Mohr, Vice-president, Fair Credit
Trust Intuition and Seek Advice
When determining the legitimacy of an internet business, I believe it is best to trust your intuition. Proceed with caution if something feels wrong or too good to be true. 
Seek advice from friends, family, or online communities who have had good experiences with similar businesses. Referrals from friends and family can be helpful in finding trustworthy online businesses and avoiding potential scams.
Timothy Allen, Sr. Corporate Investigator, Corporate Investigation Consulting
Conduct Comprehensive Research
One crucial tip to consider when evaluating the legitimacy of an online business is to conduct thorough research. Begin by gathering as much information as possible about the company. Start with their website, taking note of the design, content, and overall professionalism. Legitimate businesses typically invest in well-designed websites that provide comprehensive information about their products or services.
Next, search for customer reviews and testimonials. Check independent review platforms, social media channels, and online forums to see what previous customers are saying about their experiences with the company. Authentic feedback from actual customers can give you valuable insights into the company's reputation, customer service, and product quality.
Furthermore, it is important to verify the company's contact information. Look for a physical address, phone number, and email address on their website.
Mike Schmidt, Civil Trial Law Specialist, Personal Injury Trial Law Specialist by the Texas Board of Legal Specialization, and Civil Trial Specialist by the National Board of Trial Advocacy., Schmidt & Clark
Contact Company and Check Domain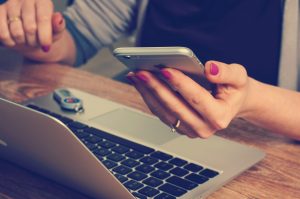 The first thing we typically do is try to contact them via their listed phone number. If no phone number or address is listed, it's usually a good sign that they aren't very legitimate. If they do list a phone number and no one answers or responds to a voicemail, it's another bad sign. If they do answer and they don't immediately identify themselves as a part of that business, it's another bad sign. 
Our last step is to run their domain through a tool like Ahrefs or SEMrush to see if they generate a decent amount of organic traffic and if the pages that generate organic traffic are relevant to the business.
Mike Schafer, Personal Injury Attorney, The Schafer Law Office
Examine Payment Methods
Before making any purchases, I recommend that you investigate the payment process and various payment channels. 
To protect customer data, legitimate businesses prioritize secure payment solutions. Look for payment gateways that are well-known and reputable, such as PayPal, Stripe, or Braintree. These gateways frequently include additional security measures such as two-factor authentication or buyer protection schemes, which help to ensure the transaction's validity.
Tiffany Hafler, Marketing Coordinator, Blockchain Lawyer
Verify Registration and Licensing
To determine the legitimacy of an online business, a key step is verifying company registration and licensing. This involves checking government databases, cross-referencing licenses, and contacting regulatory authorities. 
This process provides strong indications of the company's compliance and credibility. While customer feedback and due diligence are important, verifying registration and licensing is a concrete and reliable method. It ensures legal operation and regulatory compliance. However, it's recommended to combine this step with other research methods for a comprehensive assessment and risk mitigation.
Valerii Matiash, Head of IP and Compliance, Fintech Harbor Consulting