The lawsuit claims that Giuliani and others have engaged in a protracted, years-long campaign to access and obtain Biden's private digital information.
---
Hunter Biden has filed a lawsuit against former New York City Mayor Rudy Giuliani and a former attorney, claiming that they caused the "total annihilation" of his digital privacy by violating federal and state computer privacy laws.
According to CNN, the lawsuit was filed earlier this week in a California federal court.
In his complaint, Biden claims that Giuliani and attorney Robert Costello spent years "hacking into, tampering with, manipulating, copying, disseminating, and generally obsessing over data that they were given that was taken or stolen from" his electronic devices.
"Plaintiff has demanded Defendants Giuliani and Costello cease their unlawful activities with respect to Plaintiff's data and return any data in their possession belonging to Plaintiff, but they have refused to do so," attorneys wrote in the lawsuit. "Defendants' statements suggest that their unlawful hacking activities are ongoing today and that, unless stopped, will continue into the future, thereby necessitating this action."
"In light of the foregoing illegal activities by Defendants, their refusals to cease and desist in their unlawful behavior, and their apparent intention to continue violating the law in the future, Plaintiff has no alternative but to commence this lawsuit," the complaint states.
CNN notes that Tuesday's lawsuit is the latest Hunter Biden has filed against his conservative detractors. It comes even as congressional Republicans continue impeachment proceedings against his father, President Joe Biden, which implicate their joint business dealings.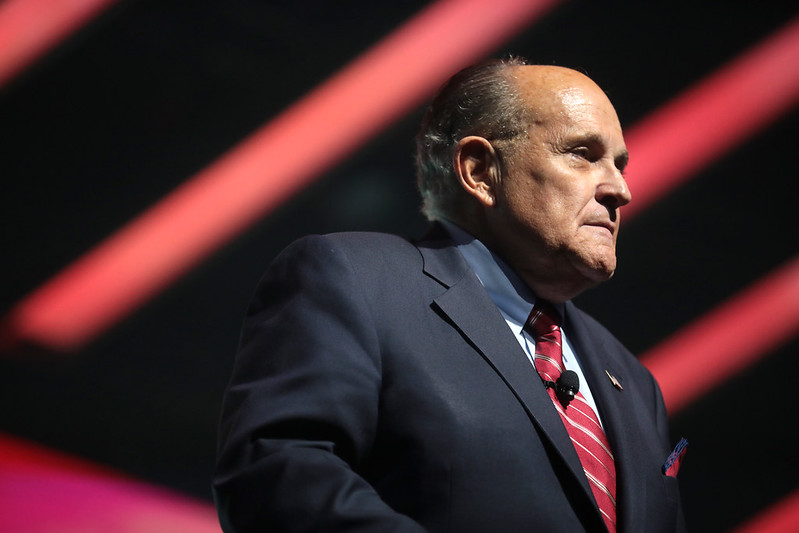 "Everyone involved in stealing and manipulating Hunter's data should be hearing footsteps right about now," a member of Hunter Biden's legal team told CNN.
Over the course of the past month, Biden has filed claims against several different parties, including former Trump White House aide Garrett Ziegler.
Biden says that, since leaving the White House, Ziegler has "devoted most of his waking time and energy" on the alleged effort to access Biden's various devices.
Hunter Biden has also sued the internal Revenue Service, saying that it negligently allowed its agents to release his tax information in violation of federal law.
POLITICO observes that, in his latest lawsuit against Giuliani, Biden's legal team repeatedly cast doubt on the authenticity of materials retrieved from his laptop and other electronic devices, saying that Giuliani and Costello have only claimed to have received a copy of a hard drive.
The hard drive, left by Hunter Biden in a Delaware computer repair shop in 2019, was seized by the technician after Biden never appeared to reclaim it.
"[Biden's] data was manipulated, altered and damaged before it was copied and sent to Defendants; and Defendants' illegal hacking and tampering has involved further alterations and damages to the data to a degree that is present unknown to [Biden]," the lawsuit claims.
"This is not an admission by Plaintiff that [computer shop owner] John Paul Mac Isaac (or others) in fact possessed any particular laptop containing electronically stored data belonging to Plaintiff," the lawsuit adds. "Rather, Plaintiff simply acknowledges that at some point, Mac Isaac obtained electronically stored data, some of which belonged to Plaintiff."
Biden is seeking compensation and damages from Giuliani and his businesses, as well as Costello and several unnamed defendants who may be added to the lawsuit at a later date. It also requests an injunction barring the defendants from accessing Biden's data, as well as an order compelling the return of any property earlier obtained from him.
Sources
Hunter Biden claims in lawsuit that Rudy Giuliani hacked his data
Hunter Biden sues Rudy Giuliani and his former attorney, alleging they tried to hack his devices