Hunter Biden claims that a former White House staffer illegally accessed and distributed personal information from a laptop that he had dropped off to a Delaware repair shop in 2019.
---
Hunter Biden has filed a lawsuit against a former White House staffer, claiming that the Trump administration aide violated state and federal law by obtaining and publicizing information about Biden's laptop content.
According to NBC News, the lawsuit was filed earlier this week in U.S. District Court for Central California.
In the complaint, attorneys say that former White House aide Garrett Ziegler, as well as his non-profit organization, Marco Polo, and 10 other people conspired to violate state and federal laws pertaining to computer fraud and data access.
Marco Polo, notes NBC News, describes itself on its website as a research group that exposes corruption.
"Although the precise manner by which Defendant Ziegler obtained Plaintiff's data remains unclear, there is no dispute that Defendants have, to at least some extent, accessed, tampered with, manipulated, altered, copied and damaged Plaintiff's data, and that their actions are illegal, unauthorized, and without Plaintiff's consent," the lawsuit alleges.
Biden said that the defendants also violated federal statutes protecting against the intentional and unauthorized access to computers.
Ziegler has since said that he has yet to be served a copy of the lawsuit.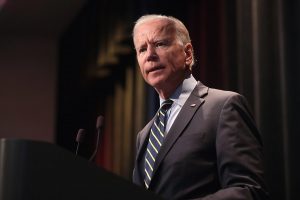 "I nor the nonprofit, Marco Polo, have been served with any lawsuit," he said in a statement reprinted, in part, by CBS News. "But the one I read this morning out of the Central District of California should embarrass [law firm] Winston & Strawn LLP. It's not worth the paper it's written on."
"Apart from the numerous state and federal laws and regulations which protect authors like me and the publishing that Marco Polo does, it's not lost on us that Joe's son filed this SLAPP one day after a so-called Impeachment Inquiry into his father was announced," he said. "The president's son is a disgrace to our great nation."
CBS News notes that Biden also filed a lawsuit against John Paul Mac Isaac earlier this year.
Isaac, adds CBS News, is the Delaware-based computer repairman who allegedly inappropriately accessed and distributed the contents of Hunter Biden's personal laptop and other private electronic information in 2019.
Mac Isaac, though, maintains that he accessed the information from Biden's laptop legally after Biden dropped it off at his office in April 2019.
Biden purportedly never returned to collect the device.
After 90 days, Mac Isaac considered the device "abandoned," and then accessed its contents.
In his most recent claim against Ziegler and Marco Polo, Biden is seeking a trial by jury, compensatory damages, and an injunction that would prevent access to, or tampering with, Biden's data. It would also compel the return of any materials obtained unlawfully.
Sources
Hunter Biden sues computer repairman for invasion of privacy over handling of laptop
Hunter Biden sues former Trump aide over alleged computer fraud related to personal laptop
Hunter Biden sues former Trump White House aide over release of private material