Copyright ice cream licker hit with criminal charges.
---
Lenise Martin III, a 36-year-old from Louisiana, has been arrested after filming himself licking a tub of Blue Bell ice cream and returning it to a store's freezer.  Martin was allegedly copying a teenager's viral video in which she did the same thing at a Walmart in Texas.  The teen deleted the post on Twitter, which read, "You can call it Flu Bell ice cream now 'cause I was a lil sick last week.  Repost yourself doing this with the hashtag #tinroofchallenge.  Let's see if we can start an epidemic (literally)."
Her video, which was watched over 10 million times, the girl can be seen licking an already opened tub of Blue Bell's Tin Roof flavor ice cream, and then re-sealing the ice cream and returning it to the freezer.  Once identified, authorities met up with the girl, who is a juvenile, and she could face up to 20 years in prison if she's charged with the second-degree felony.  Officers were able to talk with the suspect and her boyfriend, who is an adult and could also be charged.
Lufkin police ultimately dubbed the girl the "Blue Bell licker," and reported both parties were "forthcoming with what occurred and admitted to the act."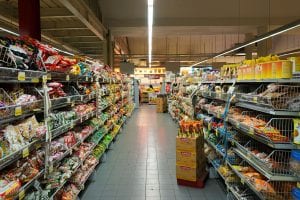 "I think you have to use some prosecutorial decision making," said Bill Marler, a food safety attorney. "For example, if the person who was licking the ice cream knew that they had Hepatitis A or HIV or some disease and was doing it, I think that rises to a higher level of culpability that some teenagers doing some crazy things."
As far as the copycat Martin is concerned, according to investigators, he can also be seen licking the opened tub of ice cream twice and sticking his finger inside of it before smiling at the camera and placing it back in the store's freezer.  He also returned with a receipt that he showed the store's clerk, suggesting he purchased what he licked.  Management had the video footage, however, and contacted authorities who questioned Martin.  He was charged with "unlawful posting of criminal activity for notoriety and publicity" and "tampering with property," according to the police report.
"He puts it on Facebook to gain this notoriety and at the end of the day, it gives other people ideas that are not the best interest of public health," said police commander Lonny Cavalier. "He did it and he did want to create some notoriety for himself by posting it on Facebook and that's exactly what he did."
The sheriff's office add it fully believes, based on comment Martin made in the footage, he was inspired by the video of the teenaged girl.  She has since deleted her post on Instagram.
A spokesperson for the Assumption Parish Sheriff's Office warned the department fully intends to charge any future copycat "immediately and with the full extent of the law."  The same goes for any department that catches another ice cream licker.  The dangers contaminated food poses to other customers is nothing short of criminal.
Sources:
Blue Bell Ice Cream Licker in Viral Video Is Found, Police Say
Copycat arrested for licking Blue Bell ice cream in Louisiana