Sending money via USPS mail isn't a crime, but it does look suspicious. Stealing it definitely is.
---
A Dayton, Ohio police detective was conducting a parcel search at the Dayton International Airport when a package was brought to his attention.  The detective called the sender, an Urbana woman, who gave permission for him to open it, and inside, he found $1,000 in cash.  The detective tried to speak to the woman again, but stated she returned his call after business hours and left a voicemail.  The investigation is ongoing. Is sending cash by mail a crime?
It is not illegal to send cash through the United States Postal Service, unless it is being done for illegal purposes, such as money laundering. Such acts would be prosecuted federally as mail fraud.  The USPS recommends money orders as a secure payment method instead of cash that could be stolen, according to its website.  Most parcel delivery services, such as FedEx and UPS, do not accept packages containing cash.  However, people stick cash into letters and greetings cards and send it through the USPS every day.
There is not limited to the amount of cash that can be sent in a parcel.  However, the USPS only insures currency up to $50,000.  The postal carrier recommends using a certified mail service that tracks the item and requires a signature on delivery and says that care should be taken with packaging to ensure the money cannot be seen from outside the envelope and to protect it from inadvertently falling out in transit.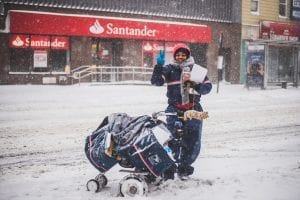 It is against the law, of course, to send cash for illegal purposes, such as money laundering, tax evasion or purchasing tickets in a foreign lottery.  If money is confiscated as part of a fraudulent scheme, federal mail fraud law allows prosecutors to impose up to a 20-year prison sentence and fines of up to $250,000.
Of course, sending cash is risky, as there, unfortunately, is always the possibility that it was be intercepted in the process, and it's untraceable, making it difficult to find a perpetrator.  In fact, a postal worker was just sentenced for embezzling mail containing gift cards and cash.
A former Mississippi postal worker was recently fined and placed on probation for stealing mail containing gift cards and cash.  Latoya Rosell, 34, of was sentenced by U.S. District Judge Carlton W. Reeves to two years of probation for embezzling.  Rosell was also ordered to pay a $1,500 fine and $100 in restitution to one of the victims she impacted.
Court records show that Rosell was employed as a Rural Carrier Associate at the Ridgeland Post Office in Ridgeland, Mississippi.  On August 15, 2018, law enforcement agents were notified that mail was not being delivered along the postal workers route.  A subsequent operation run by investigators utilized monitored test pieces to confirm that Rosell was embezzling.
When confronted, Rosell admitted to wrongdoing and immediately resigned from her position.  Agents recovered some, but not all, of the stolen property.
On December 12, 2018, Rosell was charged in a criminal indictment with embezzling mail.  She pleaded guilty before Judge Reeves on February 20, 2019, and just received her sentence.  This case was investigated by the U.S. Postal Service Office of Inspector General.  Her sentence was announced U.S. Attorney Mike Hurst and Special Agent in Charge Chris Cave, U.S. Postal Service Office of Inspector General, Southern Area Field Office.
Sources:
Urbana woman mails $1,000 cash, but is it a crime?
Ex-mail carrier sentenced for stealing gift cards, cash from mail